Russian Mogul's Failed Arcelor Bid Now Looks a Win on Steel Rout
Mordashov's Severstal is now worth as much as ArcelorMittal

Russian steel companies have fared better than foreign rivals
Billionaire Alexey Mordashov considered it the ultimate disappointment when he lost his bid to buy Arcelor SA a decade ago, allowing fellow tycoon Lakshmi Mittal to create a giant controlling about a 10th of the global steel market.
But with steel prices at the lowest since 2003, it's looking more like good luck. Mordashov's Severstal PJSC, the fourth-largest Russian steel producer, is valued at about $6.9 billion. That's now more than ArcelorMittal SA, which is the biggest and makes eight times more of the material.
In the past decade, majority owner Mordashov switched strategy from expanding abroad to focusing on Russia and improving efficiency. With profits protected by low debt and a sliding ruble, he plans to use cash left after investments and debt payments to boost dividends. ArcelorMittal has been hit much harder by the steel rout: it has been forced into writedowns, has scrapped dividends and is looking to raise cash to pay off debt.
"Life is an amazing thing," Mordashov, 50, who has personal wealth of about $11 billion, said in an interview in Moscow last week. "It's hard to say now what would have happened to both companies if the merger had succeeded and we'd carried out our plans to optimize production."
Luxembourg-based Arcelor's shareholders rejected Mordashov's offer in 2006 for 30 percent of the company. That allowed Mittal to complete a more than $30 billion takeover. He's worth $8.8 billion, the Bloomberg Billionaires Index shows.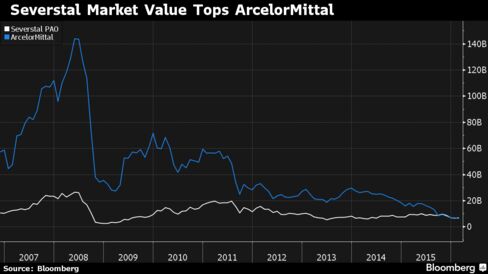 While steel companies around the world have suffered from China's record exports and slowing economy, Russian firms have fared better thanks to the weakest ever ruble. They pay wages and other costs in the currency while earning dollars or euros for exports. Severstal's stock has lost 20 percent in London trading in the past year, compared with a 68 percent drop for ArcelorMittal in New York.
Severstal, based in Cherepovets, has one of the highest margins of earnings before interest, taxes, depreciation and amortization to revenue in the industry at 33 percent, while net debt to Ebitda was among the lowest. The steelmaker plans to pay more than half of its net income in dividends for 2015.
"The business in Russia is more attractive and effective," Mordashov said. Globally, steel companies need to keep costs low and offer better quality products and services to survive, he said.
Strategy Changed
Investors are getting the dividends because Mordashov stopped spending billions overseas, said Kirill Chuyko, head of equity research at BCS Global Markets. Before it completed its U.S. asset sales in 2014 for more than $2 billion, Severstal had written off more than $2 billion on them, according to BCS.
"Of course the major part of its success is in the weak ruble," Chuyko said. "But the company also has balanced assets, low debt and it is well managed."
Producers from Tata Steel Ltd. to South Korea's Posco are reeling from the steel slump that's cut profits and forced plant closures and job reductions. ArcelorMittal, whose full-year net loss swelled to $7.95 billion after taking $4.8 billion in writedowns, last week said it plans to raise $3 billion from investors as it looks to ride out the industry slump.
Commodity Pain
The turmoil in commodities may last for a while yet, and there will probably be a wave of bankruptcies for unprofitable steel and iron ore producers, Mordashov said. The current situation may be the "new normal," he said.
Structural changes in the steel market may also be coming, as a jump in Chinese scrap output in the next 15 years or less would shift the bulk of production to electric-arc furnaces -- which don't rely on coal and iron ore -- from blast furnaces now, he said.
Severstal is considering further cost cuts, though its performance will ultimately depend on the strength of the economy, Mordashov said. While the country's economy may start to recover as early as this year, Russian steel consumption may not increase in 2016 after dropping 12 percent last year, he said. The weaker ruble is supporting the economy now, but if it slumps below 80 to the dollar, that may hurt domestic clients' ability to buy steel, billionaire said. The Russian currency depreciated almost 8 percent this year to 79.70 rubles per dollar as of Feb. 9.
"There are, possibly, opportunities for further consolidation in the Russian steel industry as it could help to cut the costs, but no practical steps in this direction have been taken yet," Mordashov said.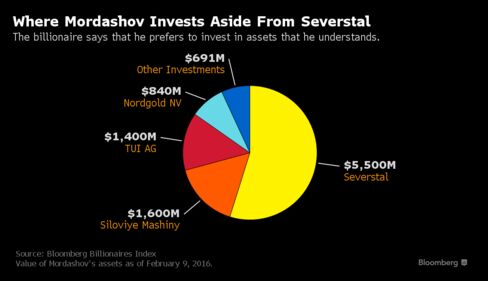 The Russian tycoon says he's ready to personally invest abroad and is also looking at acquisitions in medicine and agriculture. His Severgroup, through which he controls all his assets, has low debt, and the dividends received from Severstal are invested into other businesses, he said. Mordashov's only large international holding is a stake in TUI AG, Europe's largest tour operator, in which he held 15 percent as of December. He said he's gradually raising his holding and may expand his holding to 25 percent over time.
"I prefer to invest into assets which I understand and where I personally can create additional value," Mordashov said. "I am strategist, rather then a portfolio investor."
Before it's here, it's on the Bloomberg Terminal.
LEARN MORE