Renewable Energy Doesn't Need Obama's Clean Power Plan to Grow
Wind, solar have been growing ahead of plan's implementation

Key drivers are state policies, tax incentives and lower price
The U.S. Supreme Court's decision to halt President Barack Obama's plan for cutting power-plant emissions may hobble one of his signature environmental efforts. It's unlikely to smother renewable energy.
The Environmental Protection Agency's Clean Power Plan is not scheduled to take effect until 2022, yet for the past two years clean energy has been the biggest new source of electricity in the U.S., adding more capacity than natural gas.
Wind and solar accounted for 5.4 percent of the nation's total energy mix in 2015, with growth driven primarily by renewable-energy targets set by individual states, federal tax credits and the falling costs of producing green power. Even if the Supreme Court ultimately strikes down the Clean Power Plan, those incentives will remain.
"While the Clean Power Plan could certainly be an important actor in the growth of renewable in the next 10 or 15 years, it is by no means the deciding factor," said Jackson Morris of the Natural Resources Defense Council.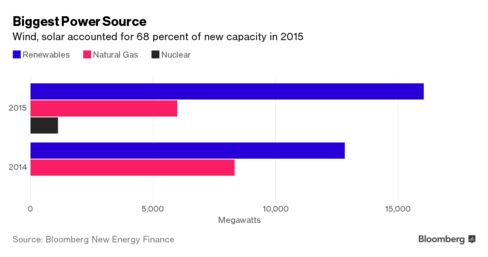 To be sure, analysts said the Clean Power Plan would probably have some impact on renewables. The initiative requires states to cut carbon emissions, providing incentives to replace coal plants with wind and solar farms.
"So above and beyond the tax credits for wind and solar, there is a regulatory push to shift from coal to renewables," said Nathan Richardson, a visiting fellow at Resources for the Future, a Washington-based research group.
Carbon Emissions
The U.S. is already cutting its carbon emissions. A record number of coal plants closed in the U.S. last year. And even without the Clean Power Plan, Bloomberg New Energy Finance estimates that the U.S. is on track in the next nine years to cut power plant emissions by as much as 24 percent below 2005 levels.
That's close to the targets in the landmark climate-change deal completed in Paris last year, in which the U.S. pledged to reduce emissions 26 to 28 percent by 2025 from 2005 levels, said Colleen Regan, a New Energy Finance analyst who follows North American power markets.
"We think the U.S. is already on a great path to decarbonizing its power sector," said Regan.
Before it's here, it's on the Bloomberg Terminal.
LEARN MORE