Google's Huber to Lead Illumina Cancer-Detecting Startup Grail
Developing `liquid biopsies' for early tumor diagnosis

Grail raised more than $100 million in venture capital
Google Inc. executive Jeff Huberwill depart the technology giant to head up Grail, Illumina Inc.'s startup that's developing a blood test to spot cancers in their earliest stages.
Huber, an Illumina director since 2014, spent 12 years at Google, where he worked on advertising products, as well as Google Maps, Google Earth and most recently the life sciences arm of Google X.
"Around my 10-year anniversary was a good time to pause and reflect on what I want to do with the next decade in my career," Huber, 47, said in a telephone interview. Technology is changing biology research and cancer care, he said, and that attracted him to the move, which Illumina announced Wednesday.
Grail was started in January with more than $100 million in funding, including investments from tech billionaires Bill Gates and Jeff Bezos. That dwarfs the average first-round venture capital support received by 322 startups in the last three months of 2015, which was $6.8 million according to PricewaterhouseCoopers and the National Venture Capital Association. Grail's goal is to create a "pan-cancer" screening blood test that can diagnose the disease very early, even before symptoms arise. The venture will use San Diego-based Illumina's top-selling technology to decipher bits of genetic material that tumors shed into patients' blood.
Enthusiasm for this "liquid biopsy" approach has grown because blood draws are cheaper and less invasive than common tissue biopsies. Grail and other like-minded startups must prove they can detect and track cancers as accurately as traditional methods if they hope to upend standard procedures. False positive test results might unduly frighten patients and lead to unnecessary procedures, while false negatives allow cancers to grow untreated.
Cancer's Source
The goal is elusive, as the company's name implies. Yet the market opportunity may reach $200 billion, Illumina Chief Executive Officer Jay Flatley said in January. His company invested $40 million in Grail's first funding round and will own more than half of the startup.
While the test would be able to identify cancer-causing mutations, it may not be able to tell doctors exactly where patients' tumors are located.
Pinpointing them "is a dimension we need to push on," Huber said. "We're still investigating the science, and we're optimistic we will be able to say, 'Statistically, this looks like a breast cancer or colon cancer.'"
Illumina aims for Grail to start a large-scale clinical trial in 2017, and for the test to be on the market by 2019 with a price tag of less than $1,000, Flatley said in January. Huber said he needs some time on the job before committing to a schedule.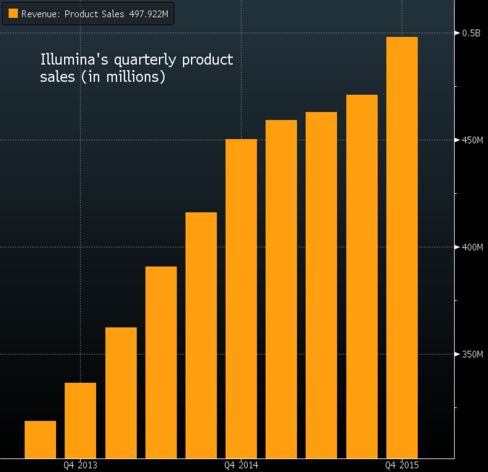 Current funding will cover the test's development, and Grail may seek more for human trials, according to Huber. It's unclear if the U.S. Food and Drug Administration will require the startup to submit the test for clearance before marketing. Huber said he "looks forward to working with the FDA for the best approach."
Grail's mission also has a personal dimension for Huber. His wife Laura died in November after a late-stage cancer diagnosis.
"I'm confident she got state-of-the-art care, but given the point that she was diagnosed, it was an uphill fight," he said. "There's a sense of urgency to have a high-quality test as quickly as possible."