For Statoil, $7 Billion Spending Cut Leads Home to Norway
Norway's share of investments rises to 55% from 40% in 3 years

Company's international production fell for first time in 2015
Statoil ASA's investment cuts in response to the crude-price rout have sent shock waves through Norway's oil industry, but it's the company's international operations that are paying the bigger price.
As painful as the company's billions of dollars of cuts are for Norway, where it operates more than 70 percent of production, they've actually raised the share of total investments that Statoil makes in its home country. At the same time, an international expansion that's defined the company for the past decade is slowing.
Three years ago, Brent oil traded at more than $115 a barrel and Statoil counted on international projects to increase production -- allocating only about 40 percent of projected average annual investments of $21 billion to Norway through 2016. Last week, as the company reduced planned spending for this year to $13 billion from what turned out to be a peak of $20 billion in 2014, it said it would be putting 55 percent of its capital into Norwegian projects over the next two years.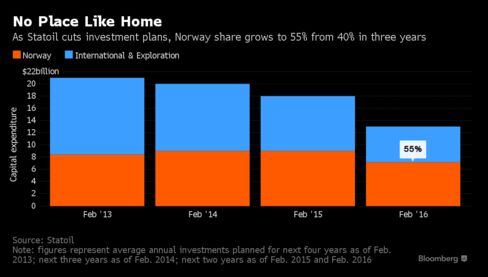 "I see it as a coping strategy for a lower-oil-price world," said Rob West, an analyst at Redburn Europe Ltd. "If you have one basin where you're the master, where you dictate how you operate, and your entire organization can be geared around that, that's an efficiency."
Faced with oil prices near $30 a barrel and the effects of a decade of industry cost inflation, Statoil and its peers are pushing hard to cut spending and make operations more efficient. Those gains are more difficult to obtain across a variety of projects scattered around the world than in the company's backyard, West said.
Strong Position
"Our strong position on the Norwegian continental shelf has allowed us to work closely with the supplier market on improvements," Statoil spokesman Ola Anders Skauby said in an e-mail. "Norwegian suppliers have taken major steps in increasing their competitiveness, also in international markets."
The shift back to Norway overseen by Chief Executive Officer Eldar Saetre contrasts with the international expansion orchestrated by his predecessor Helge Lund, who ran Statoil for 10 years before leaving in October 2014 to head BG Group Plc. Lund managed the merger with Norsk Hydro ASA's oil and gas operations and the expansion into U.S. shale.
Statoil's shale assets contributed to 66.5 billion kroner ($7.8 billion) of net impairment losses over the past two years for the international unit, compared with 11 billion kroner for Norway, according to company reports. Even adjusted for such items, the international unit reported a 15 billion-krone net loss in 2015, compared with a 2.6 billion-krone profit in 2014.
Licking Wounds
Statoil is still licking its wounds after the writedowns, said Knut Rolland, an analyst at SpareBank 1 Markets AS. "They know the Norwegian shelf best. They're choosing to focus on that in challenging times."
Statoil's oil and gas production outside Norway fell last year to 739,000 barrels of oil equivalent a day from 743,000 in 2014, the first drop since its merger with Hydro's oil unit in 2007. The rising share of Norwegian projects in the company's current investments will also affect the geographical distribution of production beyond 2020, though it's difficult to know precisely how, Rolland said.
At a strategy update in London last week, Saetre highlighted the company's ability to adapt to lower prices with examples from Norway. The giant Johan Sverdrup field, due to start production in late 2019, now has a break-even price of less than $30 a barrel, he said. At the Johan Castberg project in Arctic waters, break-even has dropped to less than $45 from more than $80.
Competitive Edge
In contrast, Statoil is still working to lower the break-even price across its U.S. offshore and onshore projects to $50 by 2018 from $90 in 2014, according to a company presentation.
While there's a lot of emphasis on the Norwegian continental shelf, the company's strategy hasn't changed and still involves international growth, Saetre said last week.
"I learned at business school that to leverage your competitive edge is a good idea," he said. However, "we would like to grow and extend the company and that means we will have to continue to look outside the Norwegian continental shelf."
Before it's here, it's on the Bloomberg Terminal.
LEARN MORE