California's Four-Year Drought Cost $2 Billion on Power Bills
Drought cut power supply from hydro stations, researcher says

Increased use in gas pushed up carbon emissions by 10%
The unprecedented drought in California cost consumers an extra $2 billion in power bills because it dried up hundreds of hydroelectric stations in the U.S. state, curbing a key source of renewable energy, a new report found.
The drought has also undermined efforts to tackle climate change since it started in 2011, because the extra gas power replacing hydro increased emissions, the research group Pacific Institute in said the study.
"California's drought -- which is the driest and hottest in 120 years of instrumental records and one of the worst in history -- has had widespread impacts on all water users, including farmers, industries and natural ecosystems," said Peter Gleick, president of the Pacific Institute, said in a statement on the organization's website.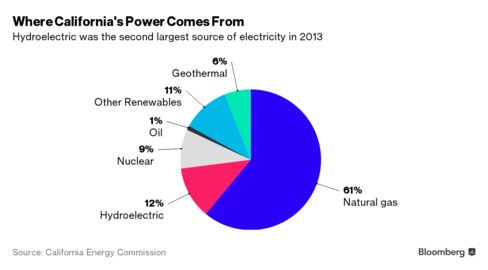 Hydropower is one of the cheapest ways of generating electricity. It can also balance out other intermittent sources of renewable energy needed to tackle climate change, which is blamed for the rise in extreme weather events such as droughts. California Governor Jerry Brown last year said the drought in his state showed that "climate change is not a hoax".
The technology provided about 18 percent of the California's electricity needs for the last 30 years. That fell to 10.5 percent from October 2011 to September 2015, according to the report.
The dip in hydropower was replaced by a growth in gas, which increased carbon dioxide emissions by 23 million tons, or 10 percent, during the four years, according to the study, which was first reported by the San Francisco Chronicle.
"All Californian ratepayers are affected by the drought as they pay for electricity that is both dirtier and more expensive than in non-drought years," said Gleick.
Watch Next: A Brief History of Global Warming
Before it's here, it's on the Bloomberg Terminal.
LEARN MORE