Wolf of Swedish Banking Is Catalyst for Shareholder Revolt
The sudden dismissal of one of Sweden's most successful bank executives has fueled debate on the real reasons behind the move and whether it's enough to satisfy shareholders.
Swedbank's board on Tuesday fired its chief executive officer, 52-year-old Michael Wolf, who had led the biggest Swedish mortgage lender since early 2009. The reason given was a need for change. But Swedish media have been quick to suggest the firing was linked to some questionable real estate deals carried out under Wolf's watch.
Swedbank's biggest shareholder, Folksam, has criticized the bank for failing adequately to regulate conflicts of interest. For the Swedish Shareholders' Association, which is also battling the bank over marketing tactics, Wolf's firing is "not the end of the story," according to its CEO, Carl Rosen.
Wolf, who leaves the bank with 75 percent of his $1.5 million salary, and an additional 75 percent in severance pay, oversaw an almost 10-fold increase in its stock value. In a statement sent via Swedbank's press office, Wolf said he was "surprised over the board's decision." He also said he had "the greatest respect for the fact that it is up to the board to hire and fire CEOs."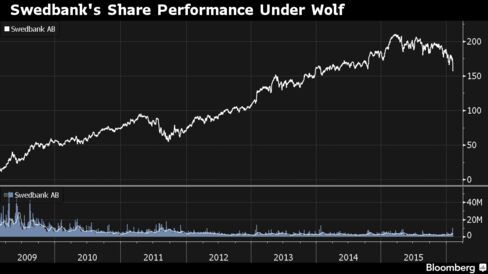 The market was quick to show its displeasure at Wolf's firing and sent the share down more than 5 percent. The stock was trading higher on Wednesday. But a dotted line is now being traced to an earlier dismissal that may ultimately have sealed Wolf's fate.
The outgoing CEO last year oversaw the departure of Magnus Gagner Geeber. The move followed reports in Dagens Industri that the former head of large corporates and institutions, along with Chief Financial Officer Goeran Bronner, had made real estate investments that could be considered a conflict of interest given the management positions the two held. Swedbank has since tightened its internal rules.
"Just because something is not clearly forbidden doesn't mean that you should do it if you're in the leading management of a company," said Carina Lundberg Markow, head of corporate governance for Folksam.
The FSA opened an investigation into Swedbank in December, spokesman Peter Svensson said. He declined to provide further details, citing the agency's policy not to comment on investigations that are in progress.
Swedbank's chairman, Anders Sundstroem, said Wolf was fired because he was no longer the right person to run the bank. A wish to move faster with a strategy of "transformation" targeting greater client satisfaction was the primary motive for the dismissal, he said. Reports of questionable real estate investments under his watch played a "subordinate role," he said.
Sundstroem said he would like to continue as board chairman, and that he has "big faith" in Bronner staying on as CFO. Swedbank named its head of Swedish banking, Birgitte Bonnesen, as acting CEO. At a press conference later the same day, Bonnesen said no further management changes are expected. Given her performance record, the acting-CEO is a strong candidate to run the bank long term, according to Sundstroem.
In a conference call with journalists on Tuesday, Sundstroem said there's a need for improvement. Touching on the real estate deals, he said "the CEO has had shortcomings. He could have done something to stop this from happening."
According to Rosen at the shareholders' association, the issues at Swedbank "obviously" involve "the whole board." He interprets the "firing of Michael Wolf as a way to try to sacrifice him to save the board."
Rosen also says that questionable real estate deals aren't the only cloud hanging over Swedbank. The Swedish Financial Supervisory Authority last year chided institutions it said had been caught selling closet index funds -- that is, funds sold as though they were actively managed but that, in practice, just track benchmarks -- and warned them to stop. The agency didn't name specific firms. Swedbank has denied any wrong-doing.
Lundberg Markow at Folksam says closet index funds are "not a problem only for Swedbank. It's a problem for all the Swedish banks and fund companies."
The question now is how far the shareholders' association is willing to take its fight. "We are going through the entire legal process," Rosen said. "Of course, it is very difficult for us to finance a 10-year battle with a large bank."
Before it's here, it's on the Bloomberg Terminal.
LEARN MORE