The Water Crisis is Just the Latest Blow to Flint's Economy
Wealth, higher education rates trail far behind national averages
The lead-poisoned water scandal in Flint, Michigan is the latest challenge for a city that's suffered disproportionately from U.S. manufacturing job losses and poverty.
Census data paint a bleak picture of the once industrial hub and birthplace of General Motors Co. Median household income was $26,179 in 2014. That's down 7 percent from 2008 and compares to a median income of $49,847 for the state of Michigan and $53,657 for the U.S. overall. About 42 percent of residents live below the poverty line, almost triple the national rate of close to 16 percent. In a recent WalletHub ranking of top real estate markets for prospective home buyers, Flint placed last out of 300 U.S. cities.
What's behind the data? Failure to shift from a manufacturing to "knowledge-based economy" has certainly played a role, according to Donald Grimes, an economist at the Institute for Research on Labor, Employment and the Economy at the University of Michigan in Ann Arbor.

"The decline in manufacturing helped contribute to this impoverishment in Flint," he said. "But what's really the problem is that nothing successful replaced it."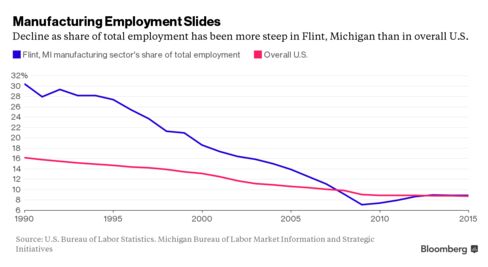 Labor Department data show a steady decline in the manufacturing sector's share of total employment. In both Flint and the U.S. on the whole, the proportion has dwindled to just about 9 percent, though the drop has been far more steep in Flint, where manufacturing jobs accounted for almost a third of the workforce in 1990, according to data from the Michigan Bureau of Labor Market Information and Strategic Initiatives. Even accounting for a slight uptick following the recession, factory employment in Flint was down 76 percent last year from 1990. In the U.S., it was 30 percent lower during that period.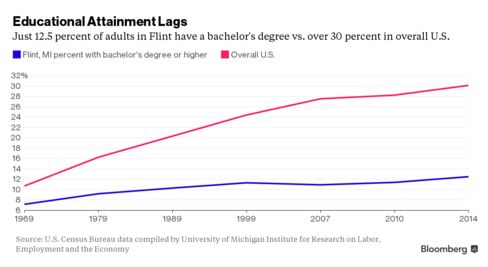 While declines in the U.S. have been accompanied by national increases in rates of educational attainment, that hasn't been the case in Flint. The share of the population aged 25 and over with at minimum a bachelor's degree is 12.5 percent, just 2.2 percentage points above where it was in 1989 and 5.4 percentage points above the 1969 rate, according to census data compiled by Grimes. Nationally, 30 percent of adults have completed at least an undergraduate program.
That hasn't helped facilitate the shift away from manufacturing described by Grimes as critical to restarting Flint's economy. And the headlines about tainted drinking water, he says, will only make it harder for Flint to attract the high-skilled workers needed to begin that process.
Before it's here, it's on the Bloomberg Terminal.
LEARN MORE