Retailer faces cash crunch next year, Evercore ISI warns

Shares tumble as much as 8.9 percent following poor results
Sears Holdings Corp., the department-store chain run by hedge-fund magnate Eddie Lampert, plunged 8.8 percent after analysts warned that the company is no longer "viable as a retailer in its current form."
A shrinking cash pile and narrower gross margins will require the money-losing company to take on more debt this year, Evercore ISI analyst Greg Melich said in a report, which he co-wrote with Matt McGinley. Even if it gets through 2016, Sears faces a "larger liquidity event" -- a cash crunch requiring some action -- the following year, Melich said. His firm is one of the few still tracking Sears, which it rates a sell.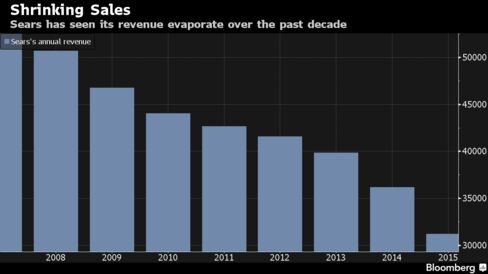 Earlier on Tuesday, Sears said it lost $50 million to $100 million in the fourth quarter on an adjusted basis before interest, taxes, depreciation and amortization. That's compared with $125 million by the same measure a year ago.
"Sears margins were worse than we thought as a tough retail climate accelerated margin decline," the analysts said in the report. "A liquidity event is a matter of when not if."
Tumbling Stock
Sears's stock fell to $15.25 at the close in New York on Tuesday, its worst performance since Aug. 3. The shares dropped 32 percent last year, following an 11 percent decline in 2014, and are trading at their lowest level since 2004.
In response to the Evercore ISI report, Sears spokesman Howard Riefs said the company would meet all its financial obligations as it pursues a turnaround.
"Sears Holdings has the financial flexibility to continue to fund our transformation," he said in an e-mail.
The retailer's Sears and Kmart chains continue to lose shoppers, with same-store sales dropping 7.1 percent last quarter. Lampert has shrunk the merchant by selling and spinning off assets such as its Lands' End clothing business and closing stores. He also put much of Sears's real estate into a real estate investment trust.
The Hoffman Estates, Illinois-based company said Tuesday that it will accelerate store closings and continue to explore a sale of its auto service centers. The chain also plans to cut expenses by as much as $650 million this year.
Still, it's hard to ignore the weak results in 2015, Evercore ISI's McGinley said in a follow-up e-mail.
"Sears continues to struggle to transform," he said. "Its inability to generate cash makes it likely it will need to sell assets or utilize its funding facility in 2016 to offset operating losses."