Japanese Stocks Plunge Amid Global Equity Selloff, Stronger Yen
Banks among biggest losers after Deutsche says it can pay debt

Topix posts worst loss since August as all industries drop
Japanese stocks plunged amid a global equity selloff as the yen surged to the highest level against the dollar in more than a year, while financial companies plummeted on growing global unease over profitability and credit quality.
The Topix index sank 5.5 percent to 1,304.33, closing in Tokyo with the largest decline since August. Brokerages and banks led the rout as all of the gauge's 33 industry groups fell. The Nikkei 225 Stock Average lost 5.4 percent to 16,085.44, its biggest drop since June 2013. The yen surged 1 percent to 114.75 per dollar, the strongest level since November 2014.
"We had a bubble in people's expectations of the power of central banks. And now we're seeing that bubble burst," said Soichiro Monji, chief strategist at Tokyo-based Daiwa SB Investments Ltd. in Tokyo. "Investors are pricing in the fact that central banks can no longer control markets. That became apparent after the Bank of Japan's last stimulus, and now a similar view is strengthening about the ECB."
Japan's currency has strengthened against the dollar despite diverging policies taken by each nation's central bank, with the Bank of Japan last month introducing negative interest rates while the Federal Reserve raised borrowing costs in December and signaled more increases this year. Slowing global growth has pared back trader expectations for at least one U.S. rate hike this year to 30 percent, down from 93 percent at the end of 2015.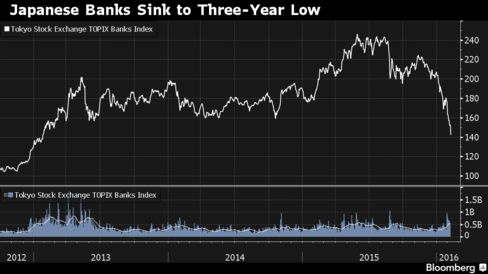 Mitsubishi UFJ Financial Group Inc. led banks lower, dropping 8.7 percent to wipe out $5.3 billion in value and close at the lowest level in three years. Financial firms globally have been under pressure as tumbling interest rates squeeze profitability while existing loans sour on slower economic growth. On Monday, Deutsche Bank AG became the largest lender in at least four years to feel compelled to reassure investors and employees that it has enough cash to pay its debts.
Japan's benchmark 10-year government bond yields dropped below zero for the first time, underscoring the challenge for banks to make money from lending in the world's third-largest economy. It fell 7 1/2 basis points to a record minus 0.035 percent as of 3:05 p.m. in Tokyo.
Monji said a full-blown financial crisis is unlikely to occur as banks are unable to take as much risk as they did in the past, making a default less likely.
"Earnings might deteriorate -- especially in Japan after the BOJ implemented negative rates -- but that's different from a crisis," said Monji.
Brokerages led losses among the Topix industry groups, with Nomura Holdings Inc. dropping 9.1 percent to the lowest in three years. Insurer MS&AD Insurance Group Holdings Inc. lost 7.2 percent, while bourse operator Japan Exchange Group Inc. sank 5.1 percent.
Yen Surge
Exporters fell, with Toyota Motor Corp. and Nissan Motor Co. each slumping at least 6.1 percent. Mazda Motor Corp. had its worst day since February 2012, sinking 8.9 percent. Yamaha Motor Co. plunged 18 percent, the most since 1982.
Gamemaker Nintendo Co., which gets more than 75 percent of revenue abroad, and Panasonic Corp. both dropped 8.8 percent.
Crude oil's drop on Monday sent energy shares lower, with Inpex Corp. dropping 6.4 percent and Japan Petroleum Exploration Co. sinking 5.7 percent.
E-mini futures on the Standard & Poor's 500 Index fell 0.9 percent. The underlying equity gauge sank 1.4 percent on Monday as a second straight selloff pushed bank shares to the lowest since 2013 and left the Nasdaq Composite Index approaching a bear market. Equities pared declines in a late-session rebound sparked by gains in energy shares. The Stoxx Europe 600 Index slumped 3.5 percent as Greek shares fell to the lowest since 1990.
Before it's here, it's on the Bloomberg Terminal.
LEARN MORE