U.S. Productivity Falls Most Since Early 2014, Labor Costs Jump
Worker productivity slumped in the fourth quarter by the most in almost two years, leading to a pickup in U.S. labor costs that threaten corporate profits.
The measure of employee output per hour of work decreased at a 3 percent annualized rate in the final three months of last year, the most since the first quarter 2014. The median estimate of economists surveyed by Bloomberg called for a 2 percent decline.
Productivity has languished since the end of the last recession as companies remain hesitant to invest in new technologies, relying instead on new hires to meet demand. Rising labor costs that are unaccompanied by increased efficiency represent a downside risk for already shaky corporate profits.
"Productivity is essentially stagnant," said Brian Jones, senior U.S. economist at Societe Generale in New York, whose forecast for fourth-quarter productivity was the closest in the Bloomberg survey. That means "you're going to have to continue to add workers if you're going to boost output."
Productivity rose at a 2.1 percent pace in the third quarter, initially reported as a 2.2 percent rate.
For all of 2015, non-farm output per hour of work rose 0.6 percent. Over the last five years, productivity gains averaged 0.5 percent, the weakest since 1978-1982.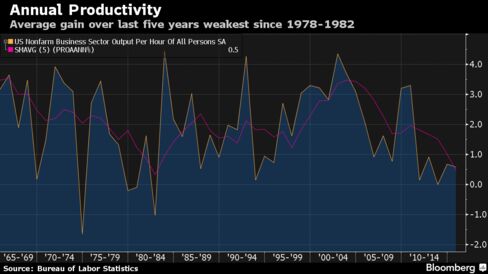 The productivity data showed expenses per non-farm worker increased at a 4.5 percent rate in the fourth quarter, the most in a year. These so-called unit labor costs, which are adjusted for efficiency gains, were forecast to climb 4.3 percent, according to the Bloomberg survey median.
For all of last year, labor costs climbed 2.4 percent, the most since 2007.
Adjusted for inflation, hourly earnings rose at a 1.1 percent rate in the fourth quarter after increasing at a 2.5 percent pace the previous period. For all of 2015, real compensation advanced 2.8 percent, the most since 2000.
Output rose at a 0.1 percent rate in the fourth quarter, slower than the 1.8 percent pace in the prior three months. Total hours worked increased at a 3.3 percent pace, the most in a year, the figures also showed.
Growth in the U.S. economy cooled in the fourth quarter, as households tempered their spending and businesses cut back on capital investment. Gross domestic product rose at a 0.7 percent annualized rate after a 2 percent gain in the third quarter, Commerce Department data showed Jan. 29.
The reluctance of companies to invest is weighing on productivity, with aging equipment becoming less efficient. Some of the decline has also been chalked up to innovations that are less trans formative than in the past, or, conversely, problems measuring the contributions that current technologies make.
Wage Gains
At the same time, wage growth remains stagnant, a factor that may be holding back employees on the job.
"It hasn't encouraged workers to work harder," said Societe Generale's Jones.
The slide in productivity in the past few years has also raised concern among economists because it limits economic growth from gaining momentum in the longer term. The pace at which an economy can expand without stoking inflation -- which economists refer to as potential growth -- reflects the rate of expansion in the labor force and how much each worker can produce.
Another Labor Department report Thursday showed more Americans filed for unemployment benefits last week. Jobless claims climbed by 8,000 to 285,000 in the week ended Jan. 30.
Before it's here, it's on the Bloomberg Terminal.
LEARN MORE