The Bakken Bust Hits North Dakota Hard
Oil and gas went from 2 percent of the economy to 16 percent.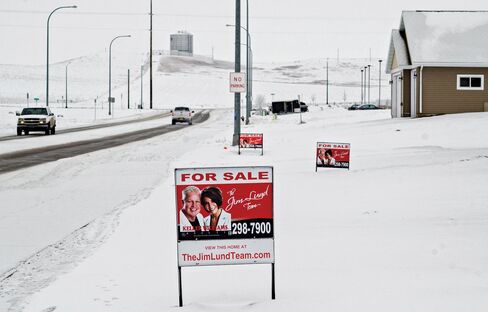 For most of the past decade, North Dakota has been the economic envy of every state in America. It posted the lowest jobless rate, the highest increase in personal income, and the fastest-growing population—all thanks to an historic oil boom that vaulted it past Alaska to become the country's second-largest producer after Texas. Now, amid the worst bust in a generation, North Dakota's economy is shrinking, employment is falling fast, and the state is imposing the deepest spending cuts in its history to help plug a $1 billion budget deficit. "Quite simply, the North Dakota economy has been devastated by the dramatic drop in oil prices," says Karl Kuykendall, an economist at the market research and energy consulting firm IHS.
With crude prices at 13-year lows, Republican Governor Jack Dalrymple on Feb. 1 ordered 73 state agencies to make 4 percent across-the-board cuts. Patching the deficit, which comes after years of surpluses, will require officials to take $500 million out of a rainy-day fund, leaving it with only $75 million for emergencies. Dalrymple is only the third governor in the state's 127-year history to dip into the fund.
When state officials were drafting their budget a year ago, they assumed oil prices would range from $47 to $53 a barrel, which they thought was sufficiently pessimistic to cover them against further drops. They were not pessimistic enough. "We never would have guessed it would get down to $28 a barrel," says Pam Sharp, the state's budget director.
Despite the severe drop in prices, North Dakota's oil production has held up remarkably well, falling to 1.17 million barrels a day in November from a peak of 1.23 million in December 2014, in part because drillers have been able to reduce the amount of money it costs to produce each barrel.
Taxes on oil production account for only about 5 percent of total state revenue, says David Flynn, chair of the economics and finance department at the University of North Dakota. The real money comes from sales tax revenue, the bulk of which is derived from the sale of equipment and services related to fracking, says Sharp. With prices down, roughly 1,000 wells that have been drilled but not fracked are sitting idle, awaiting the market's recovery. As a result, the state's sales tax revenue fell by a fourth during the third quarter of 2015 from the same period in 2014. "Sales tax revenue alone is down $700 million from the original forecast," says Sharp.
According to data from the Bureau of Economic Analysis, North Dakota's economy shrank 10.4 percent in the first quarter of 2015 and 1.2 percent during the second quarter. In 2004 oil and gas activity represented about 2 percent of the state's economy. By 2014, it was almost 16 percent, according to IHS's Kuykendall.
Alaska, Texas, Louisiana, and Oklahoma are also reeling from stagnant commodity prices, with lower-than-expected job and economic growth. In Alaska, Governor Bill Walker is proposing six separate tax increases on economic bulwarks such as energy, fisheries, and tourism, as well as the state's first income tax in more than 30 years, to close a record $3.5 billion deficit.
For some North Dakota residents, the bust comes as both a blessing and a curse. Jennifer Strange, who lives in Killdeer in the heart of the Bakken, laments that her favorite coffee shop has recently closed. But the roads are better and no longer nearly as crowded. "So much oil money went to road improvements. That's definitely a quality-of-life improvement that will last beyond the boom."
The bottom line: North Dakota has been losing jobs fast since the oil bust hit, leaving 1,000 wells idle and creating a $1 billion budget shortfall.
Before it's here, it's on the Bloomberg Terminal.
LEARN MORE