Plaza Accord II Faces High Hurdles to Turn Talk Into Action
Strategists differ on whether pact should weaken or boost yuan

`I'm not holding my breath,' ex-U.S. Treasury official says
A modern-day Plaza Accord is much easier said than done.
Three decades since world economic leaders united at a New York hotel to weaken the dollar, analysts at Deutsche Bank AG and Bank of America Corp. are saying there may become a need for a new currency pact. The goal: calm financial markets and safeguard global growth as China's yuan slides and the greenback surges.
The trouble is that the strategists disagree on whether an agreement should push down the yuan or prop it up. On top of that, the governments who would need to strike a deal may run into virtually insurmountable economic, political and logistical barriers. That means chances are probably slim that Group of 20 finance chiefs will find 1980s-style unity when they meet in Shanghai later this month.
"I'm not holding my breath," said Clay Lowery, a former U.S. Treasury assistant secretary for international affairs who's now vice president at Rock Creek Global Advisors in Washington. "All of this suggests amazing coordination on fiscal policy, monetary policy and exchange rate interventions."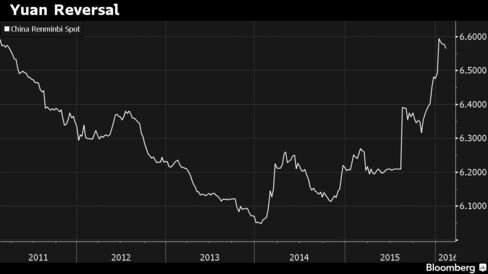 Such coordination involving this many countries, and China in particular, would be unprecedented.
Michael Hartnett, Bank of America's chief investment strategist in New York, last week proposed a Plaza Accord in reverse: The G-20 backs a one-time devaluation in the yuan, while the Federal Reserve dispatches dollars to emerging economies that need it. The U.S. Treasury would pledge to pursue dollar stability and Europe would ramp up public spending.
Ruskin's Idea
Alan Ruskin, global co-head of foreign-exchange research at Deutsche Bank in New York, had a different idea last week for a new accord that may ultimately be needed if other measures such as capital controls failed to stop the yuan from plunging. In that case, intervention would be needed to support the yuan and weaken the dollar. To Ruskin, such a pact to stem capital flight from China would inject stability into the financial system and help the nation engineer a transition to a market economy.
While the medicines are different, one thing is clear: such suggestions would face high hurdles to becoming reality.
A deal to devalue the yuan would reduce the price of Chinese goods on the global stage, transmitting another disinflationary impulse to trading partners already struggling to spur gains in prices and wages.
It would also face fierce political opposition in the U.S., where lawmakers have spent years attacking China for manipulating its currency at the expense of American companies. That would create problems for Democrats campaigning to succeed President Barack Obama. The Plaza Accord took place in the year following a presidential election.
"Why would the U.S., Europe, and Japan agree to allow China to export more deflation?" said Stephen Jen, co-founder of London-based hedge fund SLJ Macro Partners LLP and a former economist at the International Monetary Fund.
Supporting the yuan may benefit China by stemming the outflows of capital and reducing the need to spend foreign-exchange reserves. Yet it risks making Chinese exports less competitive, removing them as a way to soothe the immediate economic pain.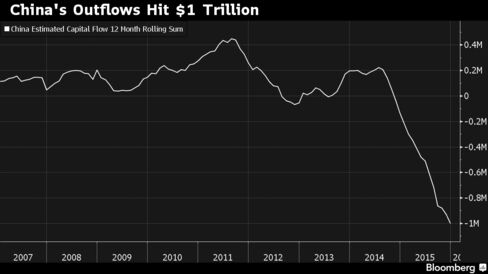 "It is not in China's interest to see a strong yuan amid economic slowdown," said Hao Zhou, senior economist at Commerzbank AG in Singapore. "If China won't join, it does not make sense to have a new Plaza Accord."
Yuan's Decline
The yuan's 4 percent fall against the dollar since August's surprise devaluation is being blamed in part for the latest bout of global financial turmoil. At the same time, the dollar has surged 23 percent on a trade-weighted basis since mid-2014, threatening U.S. exports and emerging markets which borrowed in greenbacks.
Fresh monetary stimulus from Europe to Japan is further fanning speculation of a currency war, in which policy makers worldwide engage in competitive devaluations to steal waning global demand from each other.
Yet the volatility may not have hit crisis-like levels that demand a response. The IMF is still predicting economic growth of 3.4 percent this year globally and 6.3 percent in China. A currency accord smacking of panic also would risk undermining China's desire to send a signal of stability and control as it serves as host of the G-20 for the first time.
"I'm always for preemptive actions to head off potential worse development," said Fred Bergsten, director emeritus of the Peterson Institute for International Economics and an assistant treasury secretary during President Jimmy Carter's administration. "As a pragmatic, realistic forecaster, we're probably not going to see a development still for a little while. The numbers haven't gotten bad enough yet. It takes two to three years from currency change to recorded change in trade and current account balances."
Those advocating action also may put too much faith in policy makers to shape a currency market which now totals around $5.3 trillion a day, up from $1 trillion two decades ago. A 2015 paper by Harvard University Professor Jeffrey Frankel concluded that interventions are doomed to fail if markets are determined to move a currency in the opposite direction.
"Financial flows are so great and so rapid," said Bruce Kasman, chief economist at JPMorgan Chase & Co. "I don't see how you have a coordination."
Group's Size
Even the number of participants is an issue. The Plaza Accord, a high-water mark for international policy coordination, involved five countries -- the U.S. and four close allies politically and economically. The G-20 includes 19 advanced and developing economies as well as the European Union.
The group has struggled to find common ground on fiscal, regulatory and trade policies, let alone on how to shape currencies, which its officials repeatedly say should be set by markets.
As SLJ Macro's Jen said in a research note: "As a general rule, the bigger the number following 'G', the less likely any progress can be made."
Before it's here, it's on the Bloomberg Terminal.
LEARN MORE