Meet the Canadian Whose Claim to Postmedia Trumps GoldenTree's
Former navigator who wrote for campus paper builds position

Postmedia newspaper default risk rising, rating firms say
Majority ownership of Canada's largest newspaper chain could fall into the hands of a little-known Canadian investment firm from those of a U.S. hedge fund as concern mounts that Postmedia Network Canada Corp. may default on more than half a billion dollars in debt.
Canso Investment Counsel Ltd., founded by a former air-force navigator who's dabbled in journalism himself, has built a controlling position in about C$300 million ($217 million) of Postmedia bonds that have first claim to the assets in the event of restructuring, a 2014 statement from the publisher shows. The chances of a default have increased after credit-rating firms downgraded Postmedia's almost C$700 million in debt, questioning its ability to repay the notes when they come due in 2017 and 2018.
"We are signaling there could be a default in the next year or two," which would necessitate some kind of restructuring, said Peter Adu, an analyst at Moody's Investors Service, which rates Postmedia Caa2, its fourth-lowest rating. "First lien holders could come out whole if they take over the company, but there will be nothing left for everyone else."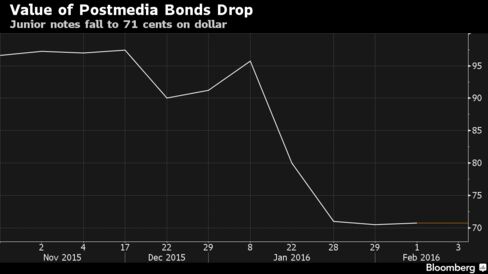 Industry Pressure
Like many newspaper companies, Postmedia, which publishes the National Post, the Calgary Herald, and others, has been struggling with declining circulation and advertising revenue as digital media eats into traditional earnings sources. In 2014, it bought 175 publications from Quebecor Inc. for C$316 million with the help of its largest shareholder, GoldenTree Asset Management LP., adding the Sun tabloid chain in a bet consolidation would boost earnings and help fend off competition.
Postmedia won't comment on speculation of a debt restructuring or change of control, Phyllise Gelfand, a spokeswoman for the Toronto-based company, said in an e-mailed statement. Management is "actively assessing options and working to find solutions to manage debt over the coming months," she said, adding the company has never missed a debt payment.
Mary Beth Grover, an outside spokeswoman for New York-based GoldenTree with ASC Advisors LLC, declined to comment on the investor's holdings of Postmedia, or its place in a possible restructuring.
Canso and founder, John Carswell, declined to comment on their position in Postmedia's debt and the outcomes of a possible restructuring.
Dual Class
GoldenTree was part of the U.S. creditor group that financed Postmedia's creation from the wreckage of a bankrupt predecessor, Canwest Global Communications Corp., in 2010. Because Canada has rules against foreign-majority ownership of its media, the transaction required a dual-share structure, with the majority of voting shares held by Canadian investors including CEO Paul Godfrey. The U.S. financiers hold Class B shares with limited voting rights. GoldenTree owns 53 percent of the B shares, and Canso owns 1.2 percent, according to data compiled by Bloomberg.
In the event of a restructuring of Postmedia, the Canadian investor could be in a position to take a majority ownership stake by turning the debt into new equity, snuffing out the junior bonds and the existing equity. That would depend on how much of its total debt Postmedia is deemed able to pay back at the time of default. The less ability to repay, the more control the first lien bondholders get.
Currency Impact
Trading in Postmedia's bonds is starting to suggest a default is a possibility. The more junior U.S.-dollar bonds have traded down to 71 cents on the dollar, according to data from the U.S. Financial Industry Regulatory Authority's bond-price reporting system. The senior Canadian-dollar bonds Canso owns, with first claim to all Postmedia's assets -- from real estate, to equipment, to the mastheads themselves -- have been offered at 88 cents on the dollar, according to traders with knowledge of the sellers' offers, who declined to be named because the negotiations are private. The Canadian dollar's 9 percent depreciation in the past year has also been a drain on finances since more than half the Postmedia debt is in U.S. dollars.
"It's quite possible no one will lend to them because of their weak financial performance," S&P's Stephen Goltz said in a phone interview. "In the course of a default, the first lien note holders have a fair bit of power." S&P rates Postmedia CCC+, seven notches below investment grade.
Postmedia sold its first-lien notes in 2012 to secure C$250 million it needed to pay off another debt it was in danger of defaulting on. Two years later, as part of its purchase of the Sun papers from Quebecor, it announced it was selling C$140 million more of the same notes maturing in 2017 to an investor who already owned more than half the existing bonds. That investor was Richmond Hill, Ontario-based Canso.
Stock Decline
Though Postmedia's regulatory filings as recently as Nov. 25 say that GoldenTree holds a position in both the first and second lien notes, "the majority of their investment is via equity ownership," Gelfand said in another e-mail.
Postmedia B shares have plunged to about 15 cents from a high of C$17.75 in 2011, giving the company a market value of about C$42 million. RBC Dominion Securities cut its price target on the shares to zero from 50 cents last week.
"Equity holders, by virtue of the fact they are equity holders, only get what's left over after all the creditors have been satisfied," said S&P's Goltz. "In some cases that can be nothing."
College Paper
Canso has a history of taking over publishing companies. In 2012 , the firm became the largest shareholder of Yellow Pages Ltd. after it and other lenders agreed to swap their bonds for equity. Since then, the firm's shares have gained about 129 percent as it's figured out how to successfully navigate the transformation to digital. GoldenTree is currently Yellow Pages' second largest shareholder, in a position that dates back to 2013, according to Bloomberg data.
Canso also lent money to another newspaper chain, Victoria, British Columbia-based Black Press Group Ltd. Last year it lead a $135 million financing of digital publisher Purch, which operates a network of websites specializing in technology reviews.
Carswell, who is also the firm's president, contributed to both his college and air-force base newspapers, and still contributes to the website he founded in 1996, The Financial Pipeline.
"If you study digital marketing enough, you find out that there's ways to make money from content, so that's one of our insights," Carswell said in a 2014 interview with Bloomberg News after financing Postmedia's Sun Media purchase. "Quality content is going to be paid for."
Before it's here, it's on the Bloomberg Terminal.
LEARN MORE