Starboard Value Takes 6.7 Percent of Marvell Technology
Marvell shares surge on disclosure of investor interest

Chipmaker investigating accounting internal practices
Activist hedge fund Starboard Value has taken a 6.7 percent stake in Marvell Technology Group Ltd., according to a regulatory filing, in a bet that it can boost value at the beleaguered chipmaker.
The move comes as Marvell faces an internal investigation of its accounting practices and a stock that's tumbled sharply over the past year. Much of the decline came after the company disclosed the review in September while also reporting fiscal second-quarter results that missed analysts' estimates. In October, PricewaterhouseCoopers LLP resigned as its external accounting firm and in December, Marvell reported preliminary third-quarter results that also fell short of estimates.
"Marvell regularly engages with our shareholders to understand their perspectives on the company and on our long-term growth strategy, and we welcome all constructive input," Marvell said in a statement. "We will carefully review any suggestions Starboard or their advisors may have, as we would with any other shareholder."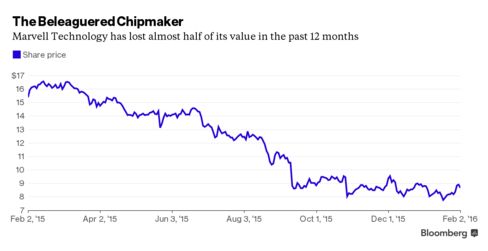 Starboard hired Tessera Technologies Inc. Chairman Richard Hill, former International Rectifier Chief Executive Officer Oleg Khaykin, and former Integrated Device Technology CEO Jeffrey McCreary as advisers on the investment, according to the filing with the Securities and Exchange Commission published Wednesday.
Kevin Cassidy, an analyst at Stifel Nicolaus & Co., said he sees Starboard's involvement as a positive source of help for Marvell, which has suffered from mismanagement.
"They're a value investor and they probably see some very good opportunities," said Cassidy, who has a hold rating on the chipmaker. Marvell has "solid businesses and just has had some missteps operationally, and maybe with some of the advisers Starboard as, maybe they can suggest some changes."
Starboard declined to comment. As one of the most prolific U.S. activists, Starboard has successfully forced companies to heed its wishes in the past. It persuaded investors to replace Darden Restaurants Inc.'s entire 12-member board after the unpopular sale of its Red Lobster chain to Golden Gate Capital. The investment firm also recently helped push office-supply rivals Staples Inc. and Office Depot Inc. into a merger.
Marvell shares rose 6.9 percent to $9.27 at the close of trading in New York, their biggest one-day gain in more than two years.
Before it's here, it's on the Bloomberg Terminal.
LEARN MORE