Chain was rebuffed in 2012 when Canadian dollar was strong

Investors unimpressed as stock falls most since May 2012
The Canadian dollar's loss is Lowe's gain.
After being rebuffed in its attempt to buy Quebec-based retailer Rona Inc. in 2012, Lowe's Cos. reached agreement on Wednesday to buy it for C$3.2 billion ($2.3 billion). Two big changes in the past four years made the transaction possible: The Parti Quebecois, which opposed the original deal, is out of power, and the loonie fell to its lowest level against the dollar in more than a decade.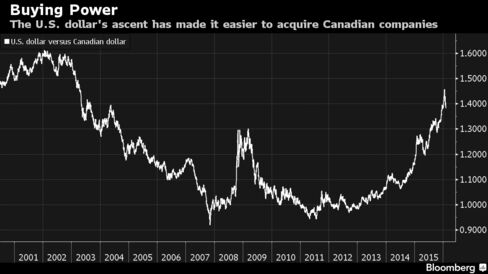 The acquisition will add about 500 stores and $3 billion in sales to Lowe's existing $1.1 billion business in Canada. One big perk for the world's second-biggest home-improvement chain will be getting its first stores in Quebec, the nation's second most-populous province.
While the deal will accelerate the company's expansion in Canada, analysts expressed concern about its impact on earnings. Because Rona has lower profit margins, it will weigh on results, said Jaime Katz, an analyst at Morningstar Inc. The revenue bump is also relatively small when compared with the chain's annual sales of about $58 billion, she said. And Canada's economy has been hit hard by the plunge in oil prices.
"They are buying something that will put pressure on their margins," Katz said. "That stood out as the biggest downside."
Shares Drop
Investors reiterated those concerns, with shares falling 6.2 percent to $67.42 at the close in New York, the biggest drop since May 2012. The stock of Rona, based in Boucherville, almost doubled to C$23.30, just below the offer price of C$24.
The boards of both companies approved the planned transaction, along with Rona's biggest shareholder, pension fund Caisse de dépôt et placement du Québec, which owns 17 percent. The deal is expected to close in the second half of 2016, the companies said.
Since Lowe's last approach, Rona's management has tried to overhaul its business. That's included closing several unprofitable stores, which reduced the total to 496. The chain was projected by analysts to increase sales 3.9 percent this year.
The deal will allow Mooresville, North Carolina-based Lowe's to capture a greater share of Canada's growing home-improvement industry, valued at more than C$45 billion, Chief Executive Officer Robert Robert Niblock said. Lowe's has identified more than C$1 billion of opportunities for sales gains and improving profitability.
The biggest growth opportunity is in Quebec, where the U.S. company lacks any presence and which accounts for about 25 percent of the Canadian home-improvement market, management said. Rona, the market leader in the province, has 87 corporate stores and another 151 dealer-owned units there.
Home Depot
The move will also make Lowe's a stronger competitor to rival Home Depot Inc., which has 182 stores in Canada with 22 in Quebec. The company doesn't disclose the revenue generated there.
Lowe's entered Canada in 2007 with plans to dot the country with locations. But finding good real estate has slowed the expansion, which was one of the drivers behind Lowe's making another offer, Niblock said.
Lowe's withdrew the $1.8 billion unsolicited bid for Rona in 2012 after the board and some Quebec politicians opposed the offer, concerned about a loss of jobs and local control in the French-speaking province. The withdrawal came just 12 days after the separatist Parti Quebecois won elections.
Loonie Plunge
Since then, the Liberals have taken power in Quebec, and the loonie has dropped to 72 cents versus the U.S. dollar, compared with parity when Lowe's pulled its bid, making it cheaper for Lowe's to offer a richer premium. So while the C$24 a share bid in Canadian dollar terms is about 65 percent higher than the C$14.50 a share bid that was rejected, in U.S. dollar terms the offer is just 16 percent higher.
Lowe's said it's making several commitments to Rona, including maintaining its Canadian base in Boucherville, keeping the Rona store banners and retaining "the vast majority" of current employees. Even after those pledges, the Parti Quebecois criticized the deal.
"What's important for us is to ensure that the commitments that are made are serious and respected," Quebec Economy Minister Dominique Anglade told Canada's Ici RDI television. "We must make sure that this deal will benefit all Quebeckers, all suppliers, and that the value chain will be reinforced in Quebec."
Before it's here, it's on the Bloomberg Terminal.
LEARN MORE