China to Plan Looser Limits on Foreign Fund Outflows
Central bank plans to relax rules for withdrawal of QFII funds

PBOC also to loosen rules on when QFII funds enter the country
China's central bank plans to loosen rules for when foreign investors can bring money in and out of the country in a signal of its commitment to further open financial markets, according to people with direct knowledge of the matter.
The rule changes would apply to funds under the Qualified Foreign Institutional Investor program, which has granted about $81 billion in quotas for overseas investment in China's domestic stocks and bonds, according to the people, who asked not to be identified because the plans have yet to be announced. Lock-up periods for the withdrawal of QFII funds from China would be relaxed and institutions would get more latitude over when they can bring money into the country, they said.
Such changes would suggest that turmoil in China's stock market and the yuan's exchange rate haven't derailed plans by the People's Bank of China to further open the nation's capital markets to foreign investors, even as the authorities tightened restrictions for the local residents to move money abroad.
Shortening the lockup period won't "really affect the capital outflows -- if money wants to leave, it will leave regardless," said Alex Wolf, an economist for emerging markets at Standard Life Investments Ltd. in Edinburgh. "But a little incremental change like this does present a good signal that in the face of pressure, they can still proceed with reforms."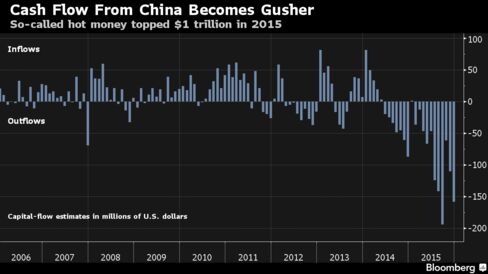 The potential relaxation of repatriation rules stands in contrast with the authorities' recent efforts to strengthen restrictions on capital flows as slowing economic growth and a depreciating currency led to a money exodus. Outflows jumped to $1 trillion last year, according to data compiled by Bloomberg.
Measures to clamp down on outflows have included greater scrutiny of transfers by individuals and limits how quickly companies can buy foreign exchange in order to make payments for goods. China's foreign exchange regulator also tightened restrictions on purchases of overseas insurance products using UnionPay bank cards, people with knowledge of the matter said yesterday.
Chinese authorities are keen to boost confidence among foreign investors at a time when cross-border money flows are under scrutiny, said Michael Wang, a strategist at London-based hedge fund Amiya Capital.
Just last week, the State Administration of Foreign Exchange denied a Wall Street Journal report that said policy makers are seeking to restrict avenues for foreign companies to repatriate earnings made in China.
Reassuring Move
"With the tightening capital restrictions for domestic residents and clamp down on how much they can invest in foreign insurance products, this seems to be going the other way," said Wang. "It's safe to say policy makers are trying to reassure foreign investors they're not going to extend restrictions to them, so that they don't have to take out the money or rush out to the exit now, but I'm not sure if this is enough to reassure investors."
As of last month, China had approved $80.8 billion of QFII quotas and another 469.8 billion yuan ($71.4 billion) of quotas for the Renminbi Qualified Foreign Institutional Investor program, which allows institutions to raise yuan overseas for investment in China. The planned changes would bring rules for QFII funds in line with those under the RQFII program, one person said.
Announcement of the changes, part of efforts to further open China's capital markets, is pending final approval of the plan by senior Chinese leaders, the people said. The PBOC didn't respond to a faxed request seeking comment.
Under the planned changes, QFII funds would be allowed to withdraw money from China on a daily basis, one person said. They're currently subject to lock-ups of either one week or one month, depending on the type of quota.
Policy Priority
Institutions would also be allowed to bring in portions of their QFII quotas at different times, the person said. They are currently given specific QFII quotas and only allowed to bring in an amount equal to that quota in a single transaction.
Foreign investors play a minor role in China's capital markets, which are accessible via only a handful programs, including QFII, RQFII and a exchange-link scheme between Shanghai and Hong Kong. The combined QFII and RQFII programs account for less than 3 percent of China's $5.3 trillion stock market capitalization.
Chinese policy makers are more concerned about local investors transferring money abroad, rather than foreigners leaving, according to Tommy Xie, a Singapore-based economist at Oversea-Chinese Banking Corp. If just 5 percent of its 1.37 billion population sent the maximum $50,000 allowed out of the country, it would deplete the entire $3.3 trillion in reserves.
"If foreign entities want to move their funds out, they'll do it no matter if they can do it once a month or everyday," said Xie. "The top priority for policy makers now is to prevent Chinese individuals and corporates, who are quite pessimistic about the yuan, from sending capital out of the mainland."
— With assistance by Tian Chen, Heng Xie, and Steven Yang
Before it's here, it's on the Bloomberg Terminal.
LEARN MORE