ChemChina's $43 Billion Meal: Foie Gras, Spring Rolls, Syngenta
How a newcomer from China succeeded where Monsanto failed

From Zurich to the Great Wall, talks progressed for months
Tuesday night's menu at Zurich's mountainside Hotel Atlantis was classic French, with staples like foie gras, lobster bisque and creme brulee. And then there were the spring rolls.
The Asian touch was a nod to the guests: teams from China National Chemical Corp. and Syngenta AG, gathered to fete the $43 billion merger they'd concluded hours before. The assembled executives, bankers and lawyers had plenty of justification for the champagne and celebratory photos at the hotel with sweeping views over Lake Zurich.
The agreement they'd just struck is the largest-ever acquisition by a Chinese company, marking a huge step in President Xi Jinping's push to secure food supplies and boost his country's corporate profile overseas. State-controlled ChemChina -- the dealmakers had code-named it Consus, for the mythical Roman protector of grain -- had snatched Syngenta from U.S. rival Monsanto Co., which had coveted the Swiss maker of pesticides and seeds for years.
It was a personal triumph for ChemChina Chairman Ren Jianxin, who worked his way up from washing tea kettles to running what is poised to become the world's largest supplier of agricultural chemicals. He'd overcome significant skepticism from investors, rivals, and even Syngenta itself that his company could pull off such a deal.
Tuesday's celebrations capped a pursuit of Syngenta, under the code-name "Project Century," that lasted more than half a year before rapidly accelerating just after Christmas. This story is based on discussions with people involved in the transaction, all of whom asked not to be identified discussing private talks.
Long Shot
ChemChina first approached Syngenta, based in the city of Basel, an hour's drive west of Zurich, last spring. At the time, it seemed like a long shot. As it spurned an offer from Monsanto, Syngenta was telling investors about the strength of its prospects as an independent company, with no need to sell to a large rival.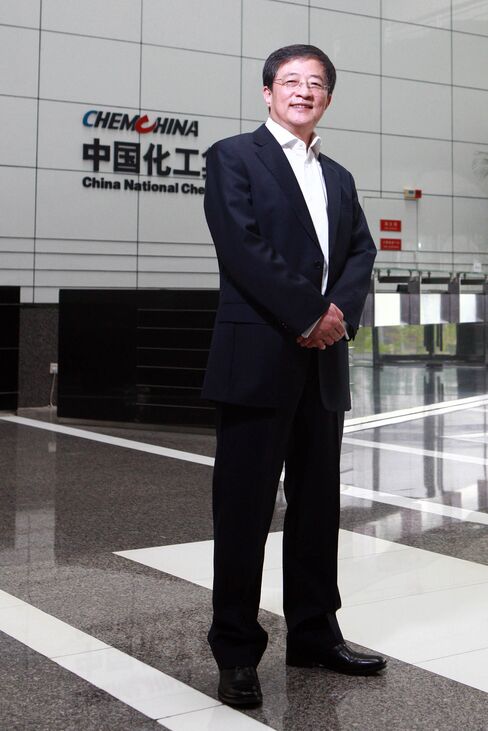 What's more, ChemChina wasn't at the top of anyone's list of likely alternative acquirers. Though Ren had pushed the Beijing-based group further into international markets, leading an acquisition of Italian tiremaker Pirelli and an Israeli pesticide producer now called Adama, Syngenta was of a totally different scale. Any deal would have to use only cash, since ChemChina isn't listed and has no shares of its own to use as currency, and its initial offers were lower than those from Monsanto.
Ren was determined, and informal contact continued throughout the year, with ChemChina making an offer around 449 francs ($446) a share in November. Then on Dec. 11, the landscape dramatically shifted: Chemical giants DuPont and Dow Chemical Co. announced a $66 billion merger, creating a combined company that would dwarf a solo Syngenta.
Working with advisers from HSBC Holdings Plc, ChemChina refined its plans, submitting a non-binding proposal around Christmas. As 2015 came to a close, the two sides were ready to enter serious talks.
Discussions intensified, and Ren and Syngenta's chairman, Michel Demare, spoke on several occasions to hammer out details. Never far from Ren's side was Ze'ev Goldberg, an Israeli banker and Pirelli board member who advised the Chinese executive during his takeover of Adama.
Top of the to-do list: persuading Syngenta that ChemChina had the full backing of the Chinese government, which can kill deals at the last minute, and that it could pull together the vast amount of financing required. Another key part of Ren's pitch was emphasizing that, unlike Monsanto, ChemChina would leave Syngenta's management in place and that the deal presented fewer antitrust concerns than a combination with the American giant.
Great Wall
The most significant moment of the courtship came in the week of Jan. 11, when Syngenta executives and advisers flew to Beijing. The two sides camped out in a conference center near Yanqi Lake, in the shadow of the Great Wall on the outskirts of Chinese capital. After two days of presentations, informal chit-chat and brass-tacks negotiation, they emerged with a deal clearly in reach.
Though some loose ends remained once Syngenta's leaders returned to Switzerland, they aimed to make an announcement before the Chinese New Year holiday, which begins on Feb. 8. The consulting firm EY was commissioned for an independent review of ChemChina's financing, which it found adequate.
Lawyers had to be consulted on antitrust matters as well as the U.S. foreign-investment review process, which has tripped up past Chinese deals. A U.S. national security watchdog is likely to examine the bid on two fronts: Whether a deal would compromise American food security and whether the combined company's locations would be too close to U.S. military bases, said several lawyers who deal with security reviews for such transactions.
By this week, as the two teams huddled in Switzerland for final talks, there was relatively little left to do. Syngenta's board gave its blessing late Tuesday afternoon, agreeing to a price equivalent to 480 francs per share. That meant that instead of the all-night, caffeine-fueled marathons common before large deals are announced, the Atlantis beckoned, spring rolls and all.
Before it's here, it's on the Bloomberg Terminal.
LEARN MORE