Myanmar's New Government Is Still Shrouded in Secrecy
Opening of parliament ends more than 5O years of military rule

New government to have `unprecedented access' to investment
Aung San Suu Kyi's party assumed control of Myanmar'sparliament Monday as more than half a century of military rule comes to an end, though who will lead the government and what its priorities will be remain shrouded in secrecy.
Members of Suu Kyi's National League for Democracy, which trounced the military-backed ruling party by a nearly 10-1 margin in November's poll, posed for photos outside the parliament building in Naypyidaw, though they offered few clues as to what the government would look like.
"We expect big change for the country," said Soe Paing Htay, an NLD representative for Myeik Township. "We don't know our party plan on what to do. I view that there are weaknesses in the constitution, so i think we need to change the constitution fast."
Though Suu Kyi will hold a seat in the country's first freely elected parliament since a 1962 coup, she is constitutionally barred from the role of president and has given little hint as to who she will choose for the role or to lead key ministries. She entered parliament Monday through a side door and gave no comment to the press.
"I don't think it has all been decided for sure," said Joshua Kurlantzick, a senior fellow for Southeast Asia at the Council on Foreign Relations in Washington. "Probably both because the party is inexperienced in these areas, and this is the first-go-round, and because they want to informally float a whole range of names past military leaders and other important players, to see if these names are acceptable."
For all the democratic change coming to Myanmar, there is much that will remain the same, which may give investors pause. The army retains broad powers under a constitution it wrote, including seats in parliament, effective veto power over charter changes and control of key ministries.
While Suu Kyi, 70, has pledged to run the government regardless of the charter ban, she has been careful not to provoke military leaders. She's held meetings with outgoing President Thein Sein, a member of the former junta, as well as army chief Min Aung Hlaing, where both men assured her of a peaceful transfer of power.
'Honorable Day'
The lower house's first act Monday was to elect a new chairman, Win Myint, a member of the NLD's central executive committee, and a deputy chairman, T Khun Myat, a member of Thein Sein's party. Both were nominated by the NLD. The upper house will hold its first meeting on Wednesday.
"Today is an honorable day for the democratic transition in Myanmar," Win Myint said in his first speech to parliament. He urged representatives to "understand each other, co-operate with each other and work for the benefit of the country and the people."
The NLD has been vague about its plans. While its election manifesto spanned the economy to education to ethnic relations, the document included few concrete details. Its economic platform, for example, pledged to do things such as expand the tax base and increase foreign investment, without saying how.
Thein Sein's term doesn't finish until the end of March, so the NLD has time before it must put forward a presidential candidate for a vote by the parliament. Possible names mentioned in local media include NLD co-founder Tin Oo, a former general in his late 80s, and Suu Kyi's personal doctor, Tin Myo Win, who was part of a recent party delegation that met with the army chief.
Challenges Ahead
The government will face challenges, including luring investment, building infrastructure, cutting red tape, battling corruption, and improving education. It needs to work to end insurgencies by ethnic groups seeking greater autonomy and show the international community it is serious about protecting minority rights. It has to shepherd laws on investment, mining, property ownership and intellectual property left over from the outgoing legislature.
After decades as one of the most isolated countries in Asia, Thein Sein's quasi-civilian government began opening up Myanmar after it won a 2010 election boycotted by the NLD. Foreign direct investment poured in, fueling some of the region's fastest economic growth. The Asian Development Bank estimates the economy expanded 8.3 percent last year and will grow about the same pace this year. Foreign investment topped $8 billion in the fiscal year ended in March. That was more than 20 times the 2010 level.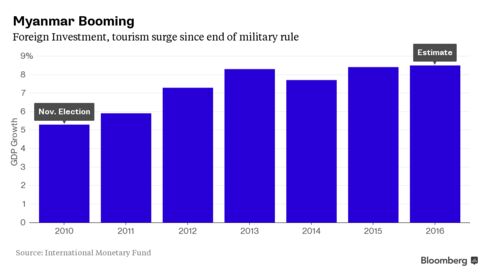 Given Suu Kyi's history as a champion for democracy -- she was awarded the Nobel Peace Prize in 1991 while under house arrest -- Myanmar may attract a new wave of investor interest. The U.S. called Suu Kyi's victory a "positive step" and signaled it may consider lifting some remaining trade sanctions.
"The NLD government will benefit from unrivaled and unprecedented access to international resources and foreign investment," said Herve Lemahieu, a research associate at the International Institute for Strategic Studies in London. "But making sound decisions about foreign involvement -- balancing the interests of Asean, China, Japan and the West -- in the country's ongoing transformation will not be easy."
The last time a free election was held in 1990, also won by Suu Kyi's party, the military refused to hand over power. This time may be different, but the generals will still control national security and maintain economic influence through army-run businesses. The army is guaranteed the cabinet posts of defense, interior and border affairs, is awarded 25 percent of seats in the legislature, and controls key industries like jade mining.
"The post-election period seems to have gone very well," Lemahieu said. "A democratically elected government will assume power in April. But that does not guarantee an NLD-led executive will have a free hand to shape the country's future. Under current circumstances, that can only be done in cooperation with the armed forces. Only time will tell whether this form of 'diarchy' -- or rule by two -- works for the country. There is no real tradition in Myanmar of sharing political power."
Before it's here, it's on the Bloomberg Terminal.
LEARN MORE