Kuroda Adds to Half-Trillion-Dollar January Global Bond Windfall
BOJ adopts negative rates in surprise move to spur lending

Sovereign yields decline in U.S., Japan, Germany, U.K., France
The Bank of Japan's surprise decision to adopt a negative interest-rate strategy boosted a global bond-market rally that had already handed investors $567 billion this month as they fled risky assets amid a collapse in equities and commodities.
Yields on benchmark U.S. 10-year notes dropped to the lowest since April on a closing basis with Treasuries posting their best month in a year. Japanese yields fell to record lows after BOJ Governor Haruhiko Kuroda's board voted 5-4 to put an interest rate of minus 0.1 percent on current accounts held at the central bank, just days after saying it wasn't considering such a move. German, Belgian and French note yields also touched all-time lows, while U.K. bonds gained.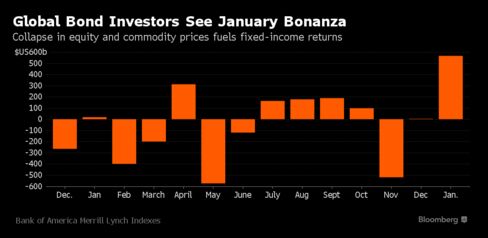 Bonds were already surging in January as investors flocked to the relative safety of fixed-income securities while stocks and oil plunged. That move has accelerated as central banks worldwide have sought to soothe markets by giving indications of continued accommodative policies. The Federal Reserve this week left U.S. rates unchanged and said it expects to raise them at a gradual pace, even as traders scale back wagers on how soon and how often it will do so.
The BOJ's move "makes Treasuries more attractive on a global basis -- not that they weren't before," said Gary Pollack, who manages $12 billion as head of fixed-income trading at Deutsche Bank AG's Private Wealth Management unit in New York. "Yields are falling all over the globe. These are positive developments for the Treasury market."
Treasury 10-year note yields fell six basis points, or 0.06 percentage point, to 1.92 percent as of 5 p.m. in New York, according to Bloomberg Bond Trader data. Two-year note yields fell in January by the most in any month since January 2010.
Germany's 10-year bund yield slid to 0.33 percent, the lowest since April. Yields on Japan's 10-year bond touched 0.09 percent, while those on similar-maturity U.K. gilts dropped to 1.56 percent, the lowest since April. France's 10-year bond yields fell to 0.64 percent, the lowest since May.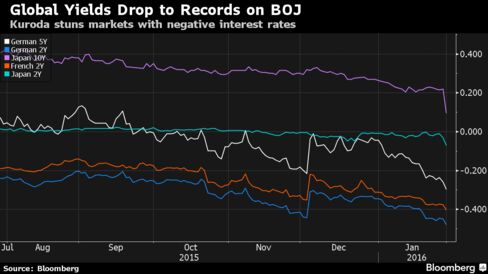 The Bank of America Merrill Lynch Global Broad Market Index, which includes sovereign and corporate debt of investment-grade borrowers worldwide, has returned 1.1 percent this month through Jan. 28, or more than half a trillion dollars in gains.
The Fed said Jan. 27 that officials, who raised U.S. interest rates last month for the first time in almost a decade, are "closely monitoring" developments from China to Europe, prompting speculation a March rate increase is unlikely. European Central Bank President Mario Draghi signaled last week that further easing measures are in the pipeline.
Yield Search
"The question of how low do yields go is almost how long is a piece of string?" said Matthew Cairns, a strategist at Rabobank International in London. Japan's rate cut is "a fairly aggressive move and signals that it's a race to the bottom with the central banks effectively trying to out-cut each other in an attempt to stimulate their own domestic inflation. It's a one-way street for yields."
German securities posted their best month since January 2015, according to Bloomberg World Bond Indexes. The euro area's benchmark sovereign debt returned 2 percent this month through Thursday. That compares with a 1.8 percent gain on Treasuries and 2.8 percent for U.K. gilts. Before the BOJ's decision, Japanese government bonds were trailing behind their peers, earning 0.5 percent.
"It makes a lot of sense" to invest in Treasuries rather than Japanese government bonds because of higher comparable U.S. yields, said A. Gary Shilling, president and founder of A. Gary Shilling & Co., in an interview on Bloomberg Radio. Negative rates in Japan give a "tremendous advantage" to U.S. debt, he said.