An Iowa Evangelical Pastor Leads His Coveted Flock to Ted Cruz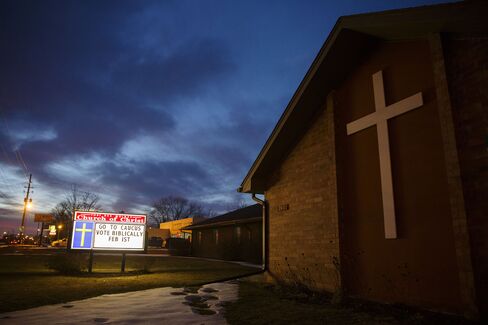 Church-goers look past economy in hunt for purest candidate

The cohort represents 28% of state's adults, a rich prize
Along Army Post Road in the southern stretches of Iowa's capital city, an illuminated sign outside Fort Des Moines Church of Christ exhorts: "GO TO CAUCUS -- VOTE BIBLICALLY -- FEB. 1." Inside the worship room, Pastor Mike Demastus explained what those words entail.
"A lot of evangelicals in the state of Iowa, we look at candidates based upon a three-tier value system: What will a candidate do about life, marriage and religious liberty?" he told members of his 200-member congregation attending Wednesday night's weekly study session. "It's not that economics and the economy are not important; they are. It's not that health care is not important; it is, but that it takes a second seat, a back seat, to those three critical issues."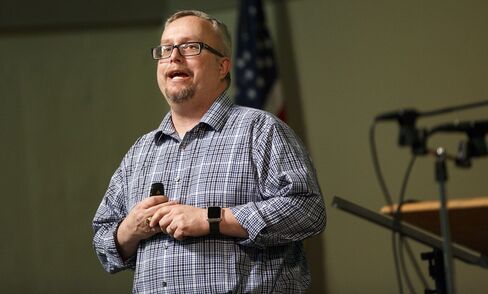 Monday's first-in-the-nation caucuses will cap months of presidential candidates crisscrossing the plains and prairie, wooing voters of all stripes and evangelical Christians in particular. The campaign's rhetoric has circled around economic issues such as immigration, inequality and reining in Wall Street. Inside Iowa's churches, such worldly concerns are often secondary.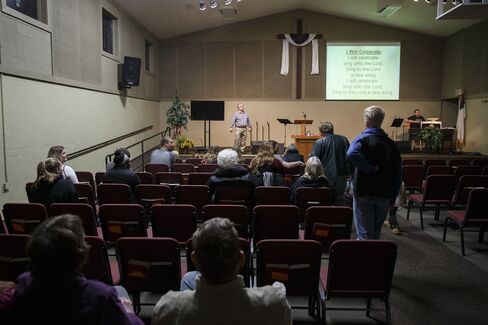 Evangelicals compose 28 percent of the state's adults, compared with 25.4 percent nationwide, according to the Pew Research Center.
The cohort presents a rich prize for Republicans. U.S. Senator Ted Cruz of Texas, the son of a pastor who often couches political arguments in Biblical phrases, has courted the religious assiduously. He won support from 37 percent of born-again evangelicals in the latest Bloomberg Politics/Des Moines Register Iowa Poll, released Jan. 13.
Seventeen percent supported billionaire businessman Donald Trump, a thrice-married real-estate developer and reality-show star, who has boasted of his amorous conquests and brags often of his wealth.
Fresh Forces
In 2012, almost 60 percent of Republicans who participated in the Iowa caucuses were born-again or evangelical Christians, entrance polls show. If Wednesday's gathering is any indication, turnout may be even stronger this year. All nine who joined Demastus, 45, for an extended discussion on politics and economics said they planned to caucus. For all but one, it would be their first time.
The congregants echoed one another as they returned to the core issues of life, marriage and religious liberty.
As Demastus explained it, their support would be granted only to candidates fighting abortion and euthanasia; against a definition of marriage that by U.S. law now includes homosexuals; and in favor of the freedom to exercise their beliefs without government interference or accusations of bigotry.
"The moral compass is all skewed," he said. "Once that moral compass gets set right again, we believe those other issues like the economy and the health-care system will be righted. If we try to right those first, we're still going to be messed up."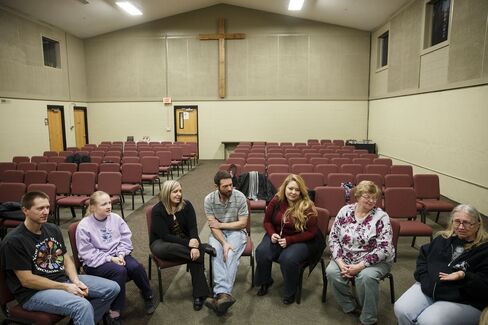 Rebekah Maxwell, a 29-year-old public-relations coordinator, spoke passionately about how politicians would fail to earn her vote without convincing her of their spiritual integrity.
"Otherwise, I have no guarantee that the person I send to Washington is not going to steal, is not going to lie, is not going to promise something and not fulfill it," she said. "It doesn't matter to me what a person says in terms of their tax plan or whatnot. I have to know whether or not I can actually trust the words that are coming out of their mouth and what principles guide them when they seek to spend."
Fort Des Moines Church is just one of hundreds of evangelical Christian congregations in Iowa. Members tend to be economic conservatives, with mixed views on issues such as trade and immigration, said John Green, a political-science professor who studies religion in politics at the University of Akron in Ohio.
While in past decades, many chose candidates based on social issues, economic and foreign policy matters have been prominent this year and "will likely play a bigger role," he said.
Tithing Pains
Those in Iowa participate in a relatively robust economy, one that has rebounded well from the recession that caused a wave of job losses in the Fort Des Moines congregation. The Bloomberg Economic Evaluation of States shows Iowa ranked 12th nationally during the first three quarters of 2015. Iowa's unemployment rate was 3.4 percent in December, sixth-lowest in the nation.
Deanna Ohnemus, 35, said she works for Iowa's juvenile court system and won a promotion last year.
"That was a big deal for me, because there were times in the past eight years that I worked for the state that I wasn't sure I was going to wake up and have a job. Now I feel pretty secure. I don't have the worries I had before."
Demastus disagreed. Judging by the downward trend of tithing and the number of prayer requests for people suffering from economic woes, he said it felt again like 2008.
The graying and magnetic pastor has led prayer at the church for 18 years. On Wednesday, after 10 minutes of song and dismissing the children to youth group, he pressed play on part four of William Federer's video series "Political Islam's War on the West."
In it, Federer, a conservative historian, contrasted what he claimed was a dangerous and violent quest for world domination by the Prophet Muhammad and the Islamic faith with the peaceful path of Jesus Christ and Christianity. Demastus asked his congregants to pray that lost Muslim souls may find Christ before launching into a discussion of the importance of upholding religious values in the public square.
Only one candidate combines a record of putting Biblical principles first with a realistic chance of making it into the Oval Office, he said. That's Cruz, he told his congregants.
Cruz has made religion a central theme. He's dispatched his born-again pastor father, Rafael Cruz, as a surrogate, won the endorsement of leaders like Tony Perkins of the Family Research Council and often asks supporters at rallies to not just vote but also to pray.
Demastus has been a vocal supporter since early last summer. He co-hosted an August debate-watching party in the church's worship hall with the campaign, and delivered an opening prayer for a Cruz rally that same month.
"This man understands where his source of wisdom comes from: not from his own arrogance or pride but from his humility to God," Demastus said.
Many in the congregation agree. All but one participant seated around Demastus said they were leaning toward or had firmly committed to caucusing for Cruz on Monday.
Before it's here, it's on the Bloomberg Terminal.
LEARN MORE