Draghi Drives $1 Trillion of Euro Debt Below Deposit Rate: Chart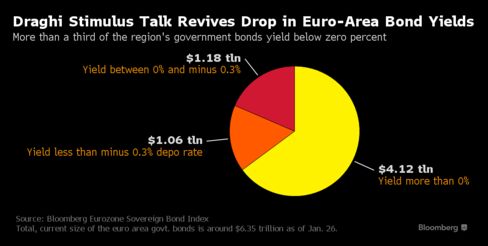 European Central Bank President Mario Draghi added fuel to a race to the bottom in the region's government-debt yields with a series of comments in the past week hinting at more stimulus. The amount of debt yielding less than the ECB's deposit rate of minus 0.3 percent has surged to more than $1 trillion of the $6.35 trillion Bloomberg Eurozone Sovereign Bond Index. That segment, which totaled just $616 billion back on Dec. 26, isn't qualified to be a part of the ECB's 1.5 trillion-euro ($1.6 trillion) asset-purchase program.
Before it's here, it's on the Bloomberg Terminal.
LEARN MORE