Boeing Falls Most Since 2001 After Predicting Jet-Delivery Drop
Planemaker sees aircraft handovers dropping from 2015 record

Market saturation and sluggish economic growth loom as risks
Boeing Co. fell the most in 14 years after its forecast for declining jetliner deliveries and less-than-expected profit caught analysts off guard and stoked concerns that demand for new planes is waning amid global economic turmoil.
The company was the worst performer among the 30 members of the Dow Jones Industrial Average even though its fourth-quarter profit exceeded estimates by a wide berth. The stock plunged 8.9 percent to $116.58 at the close in New York, the steepest decline since October 2001.
Earnings excluding some pension expenses will probably be $8.15 to $8.35 a share this year, the company said Wednesday in a statement. That was more than $1 below the $9.42 average of 22 analyst estimates compiled by Bloomberg. Boeing's sales forecast of between $93 billion and $95 billion fell short of analysts' projections of $97.3 billion.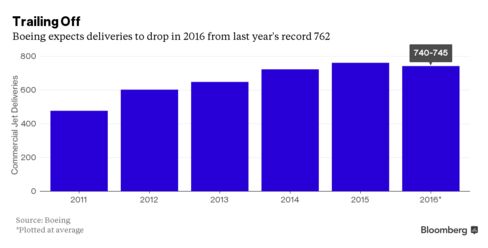 While analysts had expected aircraft deliveries to rise from a record 762 in 2015, Boeing indicated it would hand over about 20 fewer jets due to production changes for its largest and smallest aircraft. Planemakers typically receive the bulk of payment for their products when they are delivered to customers.
"We've seen this telegraphed in the marketplace, we know there is softness in wide-body sales" of models such as the 777, said George Ferguson, senior air transport analyst at Bloomberg Intelligence. "Boeing may be smart here and decide it's not selling airplanes on the cheap. But that's not going to make investors feel any better today, because that hurts earnings."
Falling Deliveries
The forecast reflects internal production issues at Boeing and not broader pressures on the aerospace sector, Chief Executive Dennis Muilenburg said on a conference call Wednesday. "We continue to see a generally healthy commercial airplane marketplace driven by improving airline profitability, solid passenger traffic growth, and meaningful replacement," he said.
Aircraft deliveries should taper to between 740 and 745 jetliners this year as Boeing halves output of its iconic humpbacked jumbo jet and begins manufacturing a new version of the 737, its best-selling and most profitable jetliner. The first 737 Max jets will be assembled at a slower pace this year but should bolster delivery totals in 2017, when the new model is slated to make its commercial debut, according to Boeing.
"I don't see a whole lot of problems here," said Charlie Smith, chief investment officer, founder and manager of Fort Pitt Capital Total Return Fund, who snapped up Boeing shares during Wednesday's selloff. "I happen to believe management that it's a timing issue. The fundamental weakness this year will be made up next year."
In 2017, the company will reduce output of the 777, its second-most profitable plane, by 16 percent to seven per month due to slowing sales and a transition to an upgraded model, Muilenburg said.
Boeing also announced a longer-term production increase for the 737, its all-time sales leader. By 2019, the company will boost output to 57 jets a month, matching Airbus Group SE's plans for a late-decade production increase of single-aisle jets.
Returning Cash
While weaker earnings shouldn't "negatively impact Boeing's existing plans to return cash to shareholders, it could create doubt as to the sustainability of these plans, especially with the probable 777 rate cut/777X ramp still ahead," Robert Stallard, an aerospace analyst at RBC Capital Markets, said in a report Wednesday. "And this doesn't include any impact from an aerospace downturn if this should occur at some point before the end of this decade."
Boeing expects operating cash flow to rise this year to about $10 billion, from $9.36 billion in 2015, as it works to drive down costs and build aircraft more efficiently. Its board also approved increasing the share repurchase authorization to $14 billion, to be made over the next two to three years. Fourth-quarter profit of $1.60 a share topped the $1.27 anticipated by analysts. It fell from $2.31 a year earlier as Boeing absorbed a one-time cost of 84 cents a share for lower 747 output.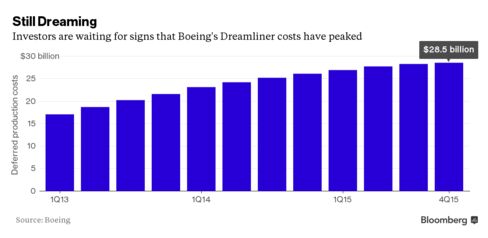 Deferred production costs for the Dreamliner rose to $28.5 billion during the fourth quarter from $28.3 billion in the previous quarter, Boeing said on its website. Boeing has said the figure, which measures funds already poured into inventory and labor against increases in production efficiency, will plateau this year then fall after it speeds 787 output to 12 planes a month.
Investors have been searching for signs that costs have peaked for the Dreamliner, which has drained cash that Boeing should be reaping from a near-record order backlog. The jetliner is the first built of spun carbon-fiber composites rather than aluminum and entered commercial service in 2011, more than three years late.
Before it's here, it's on the Bloomberg Terminal.
LEARN MORE