They Could Even Buy Ketchup: Investors See No Limit to BOJ Tools
Central bank seen buying anything from mortgages to property

`We want some Kuroda magic,' Ibayashi of UBS Japan says
Japan stock investors, who've had next to nothing to cheer about in 2016, are looking for a little creativity from a familiar ally.
Asset managers and analysts, caught out by Governor Haruhiko Kuroda at least twice before, aren't ruling anything out when the Bank of Japan decides on monetary policy this week. The bank could buy assets from housing loans to actual real estate to stimulate the market, they say, as a rout in oil prices thwarts inflation and helped send shares to their worst start on record. Daiwa Securities Group Inc. says the BOJ has plenty of dry powder.
"They could buy ketchup, throw money out of helicopters," said Eiji Kinouchi, chief technical analyst at Japan's second-largest brokerage. "The possibilities are limitless. People are always saying the BOJ has run out of options, but they're wrong."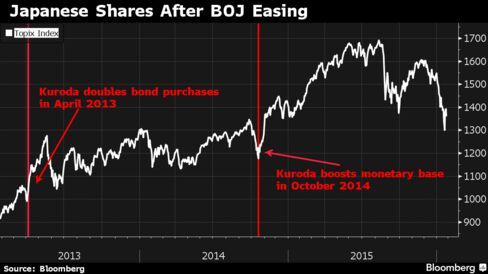 The central bank surprised investors last month by unveiling changes including a plan to buy more exchange-traded funds. Stocks jumped, and then reversed gains as traders viewed the measures as adjustments to the existing program rather than new stimulus. As attention turns to Friday's decision, Nomura Holdings Inc. says the BOJ should look beyond just increasing the pace of its record bond-buying.
"We think even a decision to ease further at the January BOJ monetary policy meeting would not be enough to calm the market," Nomura strategists led by Hisao Matsuura wrote in a note this month. "From the standpoint of measures to support share prices, we think changes in the BOJ's fixed amounts of ETF purchases would be more effective."
Counter-Productive
Mitsubishi UFJ Morgan Stanley Securities Co. says increasing buying of Japanese government debt to 100 trillion yen ($845 billion) a year from the current 80 trillion yen would probably be counter-productive, as it would make investors think the BOJ had reached a limit in debt buying. The central bank's stimulus already gives it leeway to snap up every new bond the government issues.
Stepping up ETF purchases is one option, according to Junsuke Senoguchi, a senior equity strategist at Mitsubishi UFJ Morgan Stanley. While the BOJ owns about half the ETF market, its 3.3 trillion yen a year in buying is less than 1 percent of the value of companies listed in Tokyo, he said. Housing loans is another possibility instead of JGBs, while the central bank could even opt to buy property, although this is a longer shot, he said.
"They could do anything," said Toru Ibayashi, head of Japanese equities at UBS Group AG's wealth management unit in Tokyo, who expects the BOJ to add to stimulus within the next six months. The unpredictability is making it harder to formulate investment strategies, he said.
Kuroda Magic
Kuroda's accelerated stimulus from April 2013 weakened the yen as much as 30 percent, sending corporate profits to a record and the Topix index up more than 60 percent. A second round in October 2014 was also cheered by investors. After the global equity rout erased $411 billion from Japanese stocks this year, Ibayashi says the BOJ must move again.
"We want some Kuroda magic," he said.
For Daiwa's Kinouchi, the market isn't pricing in additional easing. He cites poor relative performance this year by financial and property stocks, which usually benefit from expectations of easier monetary conditions. Just six of 42 economists surveyed by Bloomberg predict changes Friday. Kuroda played down the impact of recent market gyrations at Davos last weekend, while some BOJ officials view this week's decision as a close call, according to people familiar with the discussions at the central bank.
Wasted Bullet
Binay Chandgothia, a portfolio manager at Principal Global Investors in Hong Kong, doesn't expect more stimulus this time.
"I don't think the BOJ would like to waste a bullet at this point, given the weakness is global and not linked to Japan," Chandgothia said. "So unless there is coordinated action by global banks, I don't see the BOJ jumping into significant easing."
For Daiwa's Kinouchi, the actions of other central banks, even if not coordinated, are a reason to act. European Central Bank President Mario Draghi boosted global stock markets last week when he said the bank could add to asset purchases as soon as March.
"The ECB said they will increase easing, and that leaves the risk of the yen going higher," Kinouchi said. "If the BOJ doesn't do something now, it will be too late."
Before it's here, it's on the Bloomberg Terminal.
LEARN MORE