Merkel Lawsuit Threat Prompts Warning of Coalition Breakup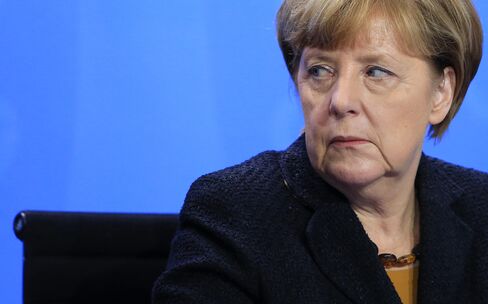 Plan by Bavarian allies stokes tension in German government

German chancellor's coalition ally comes to her defense
German Chancellor Angela Merkel's Bavarian allies risk breaking up her coalition over refugee policy, a senior Social Democratic lawmaker said, signaling growing tension within her government as Europe struggles to limit the influx of asylum seekers.
Thomas Oppermann, the Social Democratic Party's lower-house floor leader, said the threat would arise if the Christian Social Union pursues its challenge against Merkel's open-door policy in Germany's highest court. While both parties are partners in Merkel's government, CSU head Horst Seehofer has pressed the chancellor for months to reverse her stance and cap migration.
"What Seehofer is doing amounts to a breach of the coalition," Oppermann told reporters in Berlin on Tuesday, referring to the CSU's threatened constitutional complaint. The Social Democrats and Merkel's Christian Democratic Union have enough seats in parliament to govern without the Bavarian party, he said.
Merkel reaffirmed her course during a closed-door meeting with CDU-CSU lawmakers in Berlin, according to a party official familiar with the talks. The German leader appealed for lawmakers to show confidence in her course of action, saying the main focus of her strategy was to negotiate a deal with Turkey to stem the flow of migrants into Greece, the official said on condition of anonymity.
Unity Appeal
The chancellor told the legislators that negotiations with Turkey were going well, though so far no concrete results had emerged, the official said. A number of parliamentarians spoke up to defend Merkel and appeal for unity within the caucus, the person said.
Merkel, who is bucking domestic pressure to limit migration after 1.1 million asylum seekers arrived in Germany last year, argues that closed borders threaten the European Union's single market. Merkel's CDU and the CSU, which have a joint caucus in the national parliament, are in a two-year-old coalition with the SPD that controls 503 of the lower house's 630 seats.
Seehofer, who is Bavaria's state premier, last week renewed his demand for Merkel to change course, saying her coalition government was in a "serious state." He said if she didn't move, his state government would file a complaint with the Federal Constitutional Court.
"This is Horst Seehofer suing Angela Merkel," Oppermann said. "We don't necessarily need the CSU to be able to govern."
Before it's here, it's on the Bloomberg Terminal.
LEARN MORE