Japan Wage-Targeting Proponent Says Low Inflation Supports Case
Tokyo University's Watanabe sees chance of BOJ easing Friday

Bond market's 10-year inflation expectations plunged to 0.52%
The former central banker who has been arguing the Bank of Japan should switch to targeting wage increases sees little evidence current policies are working in the economy or the bond market.
Without higher salaries, the 2 percent rise in consumer prices sought by the BOJ isn't sustainable, and if people don't expect inflation will take hold, they won't position for higher interest rates in the future, said Tsutomu Watanabe, who worked at the central bank from 1982 to 1999 and now teaches economics at the University of Tokyo. A measure of bond-market expectations for inflation in the coming decade plunged to 0.52 percent this month as 10-year sovereign yields dropped to a record.
"Yields aren't only being pushed down by the BOJ's monetary easing," the 56-year-old professor said in a Jan. 21 interview. "If wages and prices aren't going up, long-term yields won't go up either."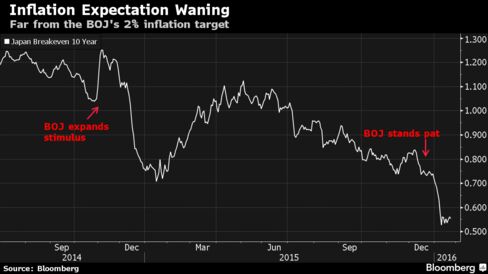 Japanese companies including Toyota Motor Corp. have reaped record profits amid the BOJ's unprecedented easing while passing very little on to employees. A wage target would allow BOJ Governor Haruhiko Kuroda to re-brand the current policy framework to make it more palatable for the general public, helping eliminate the entrenched deflationary mindset, according to Watanabe. The central bank decides policy Friday with its benchmark consumer-price gauge stagnant for close to a year.
Chicken or Egg
Watanabe, who developed an inflation gauge that tracks prices daily using cash-register receipt data, suggests a goal of 4 percent salary growth would be appropriate.
"Saying that you're targeting higher prices, consumers will worry that only prices will go up and not wages," he said. "From a macro-economic point of view, whether prices or wages go up first is just a question of the chicken or the egg. But for the general public, it's the difference between heaven and hell."
BOJ officials are increasingly expressing disappointment at subdued annual wage talks, according to people familiar with the discussions. Board member Yutaka Harada has said that 3 percent annual wage growth is required to underpin 2 percent inflation. Rengo, Japan's top labor-union association, has said it plans to seek base wage increases of around 2 percent for next fiscal year.
Corporate Behavior
The BOJ's price target has become more challenging since the start of the year, with crude oil dropping below $30 for the first time in more than a decade while the yen strengthened against all its major currency peers amid increased demand for haven assets. Japan's Topix index of stocks has dropped 12 percent amid a more than $6 trillion plunge in global equities.
Kuroda said in an interview last week in Davos, Switzerland that "at this stage, we don't think the current market situation has been affecting corporate behavior unduly," while noting that "markets could affect the real economy -- so we carefully watch." He reiterated that the central bank will do "whatever it takes" to achieve stable 2 percent inflation.
The governor has said low yields are proof stimulus is working. Japan's 10-year government bond yielded 0.22 percent in Tokyo Tuesday after plunging to a record 0.19 percent on Jan. 14.
Fourteen of 25 analysts predicted the BOJ is done expanding stimulus in a Bloomberg poll following the December policy meeting, before yen gains and commodity declines accelerated.
Some BOJ officials view it a close call as to whether the policy board will add to stimulus at a meeting later this week, according to people familiar with discussions at the central bank. Policy makers will be carefully watching economic data and market movements until the gathering ends on Jan. 29, said the people, who asked not to be identified because the talks are private.
'Stricter Eye'
"Additional easing this month is possible, although they may watch the consumer-price index for longer before making a decision," said Watanabe. "It feels like the BOJ is looking at consumer prices with a stricter eye than before."
While the costs of some essential goods like milk and bread are surging, the professor says the gains aren't stable because they aren't broad-based. And because people aren't counting on higher salaries, the danger is that the rise in prices results in a cutback in spending, which would eventually force them back down.
"Weakness in consumption must be behind the recent plateau in prices," Watanabe said. "Supermarket managers set prices by thinking about the mood of their customers. Even a slight weakening in demand will spur them to offer bargains."
Before it's here, it's on the Bloomberg Terminal.
LEARN MORE