Italy Seeks Headstart in Iran With Multi-Billion Dollar Deals
Leaders sign accords on rail, infrastructure after Rome talks

Eni's Descalzi, Fiat's Marchionne meeting Rouhani at dinner
Italy reached business deals worth about 20 billion euros ($22 billion) with Iran as Prime Minister Matteo Renzi seeks to give his country a headstart in the race for newly-opening markets in the Islamic Republic.
The accords, covering industries from natural gas to high-speed rail, were signed at a ceremony in Rome after talks between Renzi and visiting Iranian President Hassan Rouhani. Both leaders said the deals are just the beginning of cooperation between the countries. Prominent Italian executives including Eni SpA's Claudio Descalzi and Fiat Chrysler Chief Executive Officer Sergio Marchionne were due to attend a dinner with Rouhani later on Monday.
Rouhani is in Italy on the first stop of a European tour, seeking to reap the benefits of the nuclear deal signed last year with world powers. That landmark agreement entered force this month, lifting the sanctions that have starved Iran's $400 billion economy of investment and consumer goods. The president is due in France later this week where he's expected to sign contracts to buy Airbus Group SE planes and explore partnerships with PSA Peugeot Citroen and Renault SA.
Rouhani said Italy used to be Iran's biggest European trading partner, and "we are sure that a good collaboration between our two countries will happen again." Renzi said that Italy's small and medium-sized companies will also benefit from a new relationship that will extend beyond the oil and gas industries.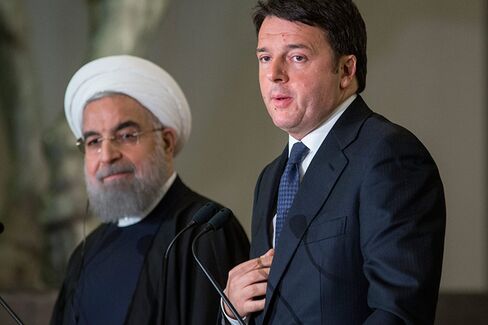 Pope Meeting
Eight inter-government accords and nine private-sector agreements were signed at the ceremony, with Italian companies including Saipem SpA, Fincantieri SpA and Ansaldo Energia SpA. Deals involving Telecom Italia SpA and Gavio SpA are also in the works. A senior Italian official earlier Monday estimated their total value at about 20 billion euros, asking not to be identified because details weren't public.
Eni could start doing business again in Iran this year, Descalzi told reporters in December. Italy's biggest oil producer is among energy companies that have expressed interest in returning to Iran after sanctions are lifted.
Marchionne said in November he sees opportunities for Fiat in Iran once the situation gets stabilized. The Italian-American carmaker is holding talks to build light-commercial vehicles and buses in the country, state-run Islamic Republic News Agency reported Nov. 29, citing Mohammad Reza Nematzadeh, Iran's minister for industry, mines and trade. Fiat signed a preliminary agreement with Pars Industrial Development Foundation Co. in 2005 to build cars in the country, though the accord never got off the ground and Fiat stopped selling vehicles in Iran in 2012.
The Eni and Fiat CEOs will be among those with a chance to advance their case during dinner with Rouhani and Renzi at the Terrazza Caffarelli, with its sweeping view of the Eternal City. The Iranian president will also get a guided tour of the Capitoline Museums, and on Tuesday he's due to meet Pope Francis at the Vatican.
The next stop for Rouhani is Paris, where he's likely to complete an accord for 114 Airbus planes to upgrade an aging fleet, according to Iranian media. The auto industry may also feature in his schedule: Iran Khodro Co. has reached a preliminary agreement for a 500 million-euro joint venture with Peugeot Citroen, Tasnim reported on Sunday.
Iran's central bank Governor Valiollah Seif said in an interview last week that the nuclear deal may trigger as much as $50 billion a year in foreign investment.
Before it's here, it's on the Bloomberg Terminal.
LEARN MORE