U.K. Retail Sales Plunge as Mild Weather Curbs Spending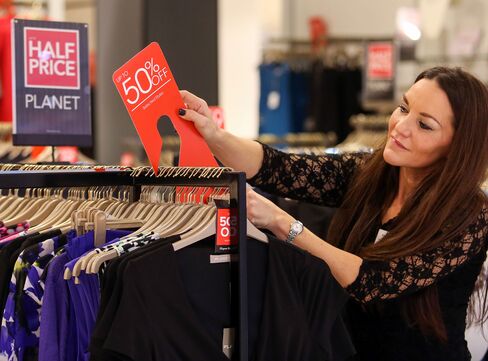 Volume of sales including fuel drops most since September 2014

Prices - measured by annual deflator - fell 3.2% in December
U.K. retail sales plunged the most in more than a year in December as mild weather damped clothing demand and early discounting boosted spending the previous month.
The volume of sales including fuel fell 1 percent, the biggest drop since September 2014, the Office for National Statistics said in London on Friday. That follows a 1.3 percent jump in November, boosted by Black Friday promotions. Clothing, shoes and textiles plunged 6.2 percent in December and the decline in total sales was bigger than the 0.3 percent economists had forecast.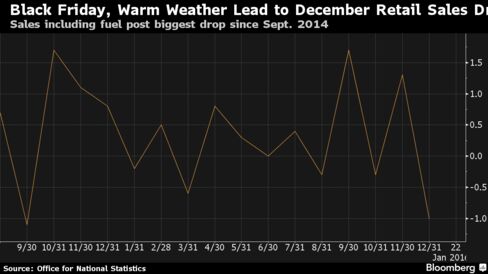 The report adds to evidence that the economy may be losing steam. Bank of England Governor Mark Carney this week highlighted the global risks as he signaled an increase in interest rates is still some way off. The BOE's benchmark rate has been at a record-low 0.5 percent since 2009.
"This is soft data," said Rob Carnell, chief international economist at ING Bank in London. "Unless January bounces back hard, it provides another excuse for the Bank of England to drag its feet, with no rate hike from them likely until November this year at the earliest."
Lower Prices
Britain remains heavily dependent on domestic demand and the underlying picture in the latest data still point to strength in consumer spending. On an annual basis, sales have risen for 32 straight months and the 4.6 percent growth seen in 2015 was the most since 2004.
With U.K. inflation close to zero, spending is being underpinned by growth in real wages. Retail prices, measured by the annual deflator, fell 3.2 percent in December. Excluding fuel, they fell 2.5 percent, the most on record.
The ONS also said that retail sales excluding fuel fell 0.9 percent in December from November and were up 2.1 percent compared with a year earlier.
The pound gained against the dollar, rising 0.3 percent from Thursday to $1.4259 as of 10:22 a.m. in London.
"Clothing and footwear stores struggled in December due to the milder weather," Melanie Richard, head of retail sales at the ONS said in a statement. "Promotions during the 2015 Christmas period were more spread out compared with 2014, with retailers offering discounts over a longer period of time rather than a one day event."
Before it's here, it's on the Bloomberg Terminal.
LEARN MORE