Tiger's Coleman, Tudor Jones, Borish Prepare to Duck Snowstorm
Drew Barrymore prefers sledding in Central Park in her Sorels

`Snowball fights can be dangerous,' pediatric physician says
Chase Coleman, founder of Tiger Global Management, turned up with an injured left shoulder Thursday night at New York's Mandarin Oriental, wearing a suit, tie and sling to see his wife, Stephanie, honored for volunteer service to the Phyllis and David Komansky Center for Children's Health at NewYork-Presbyterian Hospital.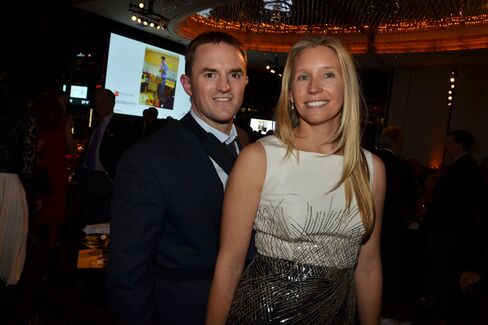 That means no skiing at Davos, and taking precautions during the snow-based activities that may result from this weekend's snowstorm.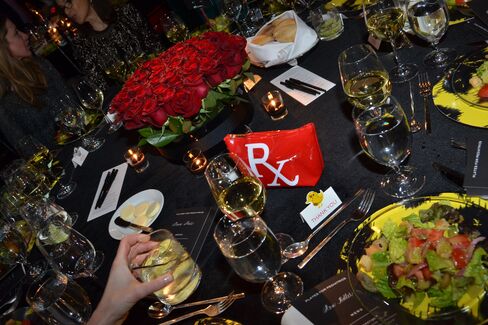 "Snowball fights can be dangerous," said Yaffa Vitberg, a pediatric emergency physician, adding that densely packed snow thrown hard can cause black eyes and even break a facial bone. "Keep it fluffy," cautioned Shaun Steigman, a pediatric surgeon.
Sledding also has its perils. "Watch out for trees, stationary objects and other people," said Gerald Loughlin, pediatrician-in-chief at Weill Cornell. "We see kids getting crashed into by other people. It's good to wear a helmet."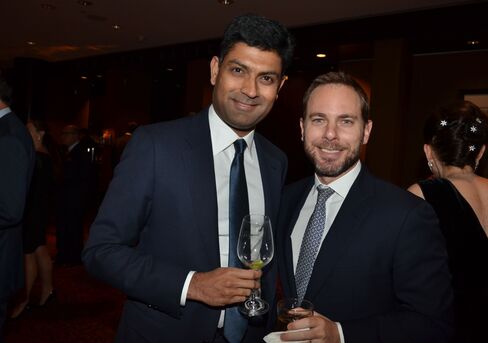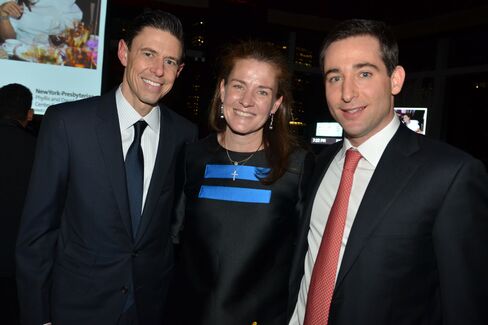 Bumping shoulders (except for Chase Coleman's) were Scott Nuttall, John Sargent, Adam Englander, Naveen Nataraj and Steve Mandis (whose follow-up to his book about Goldman Sachs will be one on the Real Madrid football club).
Parent guests shared their snowy family-time preferences: skiing for Stephanie Coleman, chairman of the Komansky Center's children's advisory council. "I'm a snow angel facilitator," said Jeff Libshutz of Ramius.
'Clumsy Kids'
"I'm better at sledding because of gravity," said Geoff Postel, an asset manager whose wife, Candice, is chairman of the Komansky Center's pediatric support committee, a cause he is fully behind. "As the father of two clumsy kids, I need to know there's a place where my kids will get the best care."
"Ditto," said Al Tylis, chief executive officer of NorthStar Asset Management.
For actress Drew Barrymore, snow is "all about going to Central Park with a plastic two-dollar sled, getting the Sorel booties out, the big baggy pants -- the bigger Patagonia lump you look like, the better.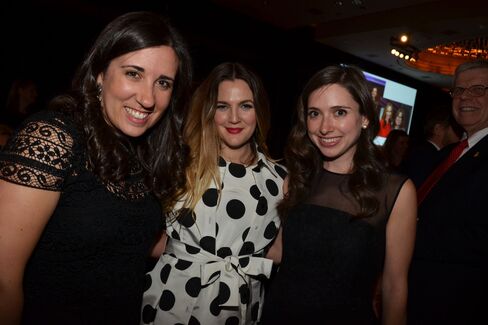 Designer Carolina Herrera likes going for a walk while it's snowing, maybe in a fur hat, while daughter Patricia Lansing said she and her kids make ice pops with fresh snow. Cristin deVeer wears a pompom hat by CK Bradley with a ski bunny on it -- that is, a bunny on skis.
Duck Pins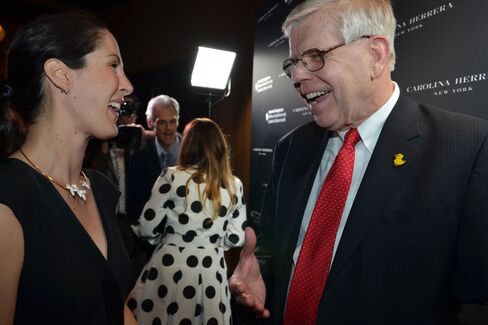 Little yellow ducks, in the form of a pin destined for financiers' lapels, were at each place setting for dinner. The duck is the Komansky Center's logo, selected by Phyllis Komansky with some input from her husband. A former chairman and CEO of Merrill Lynch, David Komansky was apparently involved in the choice of the bull for the firm's logo, "so his logo creds are pretty good," said Loughlin, the pediatrician-in-chief.
Across town at Cipriani 42nd Street for the National Audubon Society's annual New York gala, hedge-fund founder Paul Tudor Jones said he planned to bail out ahead of the storm to watch ducks in Georgia.
"Specifically to watch ducks," Jones said of his southward migration. "I love watching tens of thousands of ducks in the air migrating. It literally is the way I set my internal clock of happiness."
Jones doesn't just count on ducks showing up for his benefit, explained Louis Bacon, founder of Moore Capital Management. "We both have impoundments where you grow a lot of grain and attract ducks," Bacon said. "He was advising me as to why he has 75,000 and why I have 700."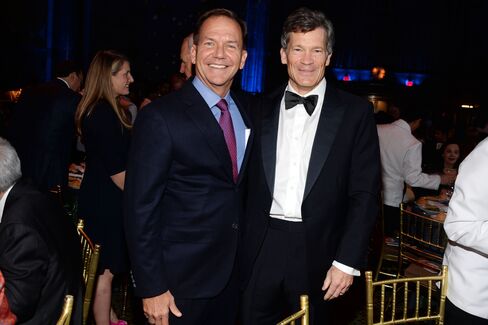 "I'm more of a hunter myself," said Maverick Capital's Lee Ainslie. Jones later pointed out that species of birds humans hunt for game often have some of the healthiest populations. "That's right. If you want to save a bird just shoot it," Jones told the crowd during a speech accepting the Audubon Medal.
Silver Lake co-founder and Audubon board member David Roux, Glenn Dubin of Dubin & Co., Peter Borish of Quad Group and former Goldman Sachs partner Peter Kiernan were also guests. Borish had just returned from Florida and planned to head right back before the storm.
Before it's here, it's on the Bloomberg Terminal.
LEARN MORE