Russia's Arctic LNG Competitive Despite Price Rout, Novatek Says
Yamal LNG production costs 5 times lower than in U.S.: Novatek

Lower production costs offset higher transportation expenses
Russia's Arctic Yamal LNG project will be able to compete with rivals in Australia and the U.S., even after energy prices plummeted to their lowest in more than a decade, according to its main owner.
The gas for the project costs less than $0.60 per million British thermal units, compared with $5 to $6 at some plants in Australia and $3 to $3.50 U.S. plants would pay on local markets, Leonid Mikhelson, the billionaire head and shareholder of Russia's Novatek OJSC, told reporters at the World Economic Forum in Davos, Switzerland. That will help offset higher transportation expenses for Yamal LNG, set to start in 2017, following the ruble's weakening to its lowest level on record.
Even with costly transportation "we win thanks to production costs of gas to be supplied for liquefaction," Mikhelson said, estimating shipping costs from Russia's Arctic to Asia at $1 to $1.5 a million btu above that of other plants. He said he sees "no problems" with the project paying off at current prices.
Spot LNG prices in Asia and Europe fell more than 60 percent amid oil's plunge and persistent oversupply since Novatek and its partners, including France's Total SA, decided to go ahead with the development in 2013, setting spending at about $27 billion. U.S. financial sanctions on Russia over the conflict in Ukraine, which targeted Novatek and its subsidiaries in 2014, curbed access to dollar-denominated financing, raising the risk of delays at Yamal LNG.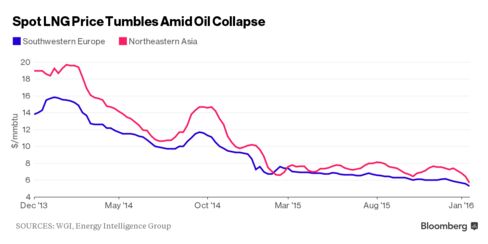 "I can't see any way the Yamal project could make a good return at today's oil price level," Jeff Brown, president of consulting firm FGE in Singapore, said by e-mail Friday. He estimated this week prices may fall further and trade at $4 to $5 a million btu from the second half of 2016 to 2018.
Total and China National Petroleum Corp. each own 20 percent of the Yamal LNG joint venture, which also operates a gas field near the plant with 926 billion cubic meters in reserves. Novatek will keep a controlling 50.1 percent stake in the development after selling 9.9 percent to China's Silk Road fund in a deal agreed on late last year. Novatek is co-owned by Gennady Timchenko, a long-time ally of President Vladimir Putin.
The partners plan to produce as much as 16.5 million metric tons of LNG a year with almost all volumes contracted more than a year ago. The project will start on schedule in 2017 with roughly $15 billion already invested, Mikhelson said on Monday. Russia's National Wellbeing Fund provided 150 billion rubles ($1.85 billion) with the rest spent by the Yamal LNG shareholders.
The partners have been in talks with lenders on external funding to cover about 65 percent of the costs since 2014. While Russian and international banks, mainly Chinese, agreed to provide more than $15 billion, the final deal is yet to be completed, according to Novatek.
Before it's here, it's on the Bloomberg Terminal.
LEARN MORE