American Express Tumbles Most Since 2009 After Profit Falls 38%
CEO says performance not what he's accustomed to seeing

He outlines plans for restructuring, $1 billion in cost cuts
American Express Co. fell the most in almost seven years after fourth-quarter profit declined 38 percent, driven by a drop in revenue and higher expenses.
AmEx tumbled 12 percent to close at $55.06 in New York, the biggest one-day drop since April 2009 and the worst performance in the Dow Jones Industrial Average, which gained 1.3 percent. Shares of the lender have fallen 21 percent this year, after declining 25 percent in 2015.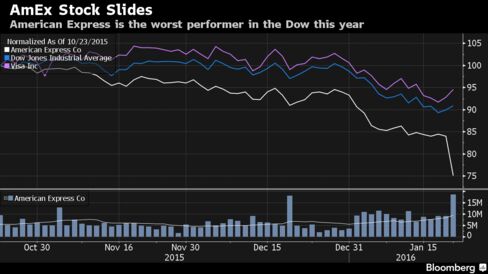 Along with its worst stock slump since the financial crisis, the lender last year parted ways with its biggest co-brand partner, Costco Wholesale Corp., and lost an antitrust ruling that permits merchants to steer customers to cheaper forms of payment. A strengthening U.S. dollar, stiffer competition and falling gas prices contributed to lower-than-expected revenue last year, Chief Executive Officer Ken Chenault said Thursday in a conference call with analysts.
"Let me acknowledge that the performance we're discussing today is not what we or you or I are accustomed to seeing from American Express," Chenault, 64, said on the call. "We recognize that we are operating in a new reality."
Cost Cutting
Chenault outlined a plan to cut costs by $1 billion by the end of 2017, including further restructuring. The company took a $335 million charge tied to its enterprise growth unit in the fourth quarter and has already shuffled management and revamped businesses. AmEx will continue to make investments to attract customers, Chenault said.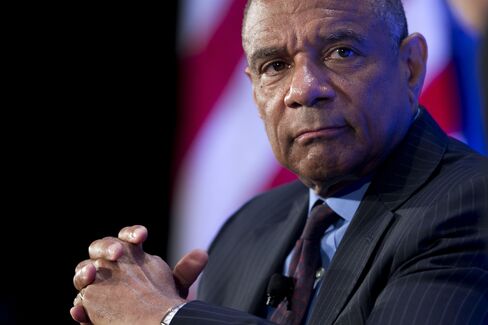 Revenue fell 7.6 percent to $8.39 billion in the fourth quarter, matching the average estimate of 20 analysts surveyed by Bloomberg. Worldwide billed business, a measure of customer spending, rose 2 percent to $273.2 billion. The average discount rate, or the fees AmEx charges merchants, fell to 2.42 percent as revenue from that source slipped 1 percent.
"There is still further downside to go," Jason Arnold, an RBC Capital Markets Corp. analyst, said in a research note. "We continue to believe revenue growth will be tough to attain in the current competitive environment."
Looking Ahead
Last year, American Express said it was ending its U.S. partnership with Costco, a relationship that accounted for 20 percent of AmEx's worldwide loans and 8 percent of customer spending. Citigroup Inc. will replace AmEx as the issuer for Costco's co-brand cards in March, a deal that's subject to Citigroup's purchase of the existing loan portfolio. AmEx said Thursday it expects to book a $1 billion gain on the sale of its Costco portfolio, which will probably be completed by mid-year.
AmEx said its outlook for 2016 earnings per share is $5.40 to $5.70. The estimate "reflects a substantial benefit from the planned sale of the Costco co-brand portfolio, offset in part by a continuation of elevated spending on growth opportunities as well as the loss of a partial year of Costco-related earnings," the lender said Thursday in a statement. The company said it expects earnings per share of at least $5.60 in 2017.
"The guidance disappointed investors as there are a lot of moving parts and management didn't do a good job providing the underlying assumptions," Ben Chittenden, an analyst with Oppenheimer & Co., said Friday in a note to investors. "Thus, investors may find themselves struggling to determine what core earnings really are over the next two years."
ValueAct Capital Management, an activist investor that amassed about a $1 billion stake in American Express last year, no longer owns the shares, CNBC reported Friday, citing people familiar with the decision that it didn't name.
Competition for co-brand deals has accelerated as banks and networks seek to wrest away partnerships that can help fuel long-term growth. AmEx has also ended its relationships with JetBlue Airways Corp. and Fidelity Investments. The lender is dismantling the enterprise growth unit, which was created in 2010 to develop additional sources of revenue, lure new customers and help fend off Silicon Valley startups.
Before it's here, it's on the Bloomberg Terminal.
LEARN MORE