Pearson to Eliminate 4,000 Jobs in Bid to Revive Earnings
Shares soar as company targets 350 million pounds in savings

London company hurting as demand for education services wanes
Pearson Plc said it plans to cut 4,000 jobs, starting a new reorganization program to tackle a decline in earnings caused by slowing demand for textbooks and dwindling college enrollment. The shares jumped.
The cuts are equivalent to 10 percent of the workforce and a majority will be completed by the middle of 2016, the London-based company said Thursday. Earnings, excluding some items, will drop to 50 pence to 55 pence a share in 2016, Pearson said, the second time in three months that its forecast has disappointed investors. Analysts had predicted 63 pence, the average of estimates compiled by Bloomberg.
The company, which now focuses on education after selling the Financial Times newspaper and a stake in the Economist magazine last summer, will spend 320 million pounds ($454 million) in 2016 to reduce costs and fuel growth in its largest markets, most notably the U.S. Pearson has only just emerged from a previous reorganization that began in 2013 and also included thousands of job cuts.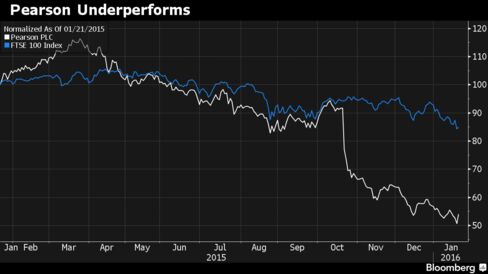 "Clearly this is a challenging time for the company and its shareholders," Chief Executive Officer John Fallon said on a call with analysts Thursday. "But we will be faster, leaner and more agile, and be a more resilient business" after the restructuring, he said.
Shares of Pearson advanced 9.3 percent to 718.50 pence at 9:33 a.m. in London, giving the company a market value of 5.9 billion pounds. The stock had plunged 49 percent in the past year through Wednesday, and on Oct. 21 had its biggest drop since 1988 after the company cut its profit forecast.
As a result of the latest restructuring, Pearson said it expects savings of about 350 million pounds a year. Following the move, along with a stabilization of markets in the U.S. and U.K., Pearson forecasts adjusted operating profit at or above 800 million pounds in 2018.
Fallon has blamed slowing U.S. college enrollments and fewer textbook purchases for the cooling sales. Since early 2013, the company has already eliminated more than 4,000 positions and halved its warehousing capacity for textbooks and other physical media.
Fallon said Thursday the company's business in North America and South Africa was worse than initially forecast and it's also bracing for further decline in its schools testing business.
Earnings in 2015 were 69 pence to 70 pence a share, Pearson said. Analysts estimated 70 pence. The company said Thursday it will maintain its dividend at 2015 levels.
Before it's here, it's on the Bloomberg Terminal.
LEARN MORE