Nigeria to Increase Budget Gap as Oil Falls Below Benchmark
Fiscal deficit will rise 36 percent to 3 trillion naira

Nigeria is ''firmly committed'' to counter-cyclical spending
Nigeria increased this year's budget deficit forecast by 36 percent after oil prices fell below the $38 per barrel benchmark set by Africa's top producer.
The gap will increase to 3 trillion naira ($15.1 billion), or 3 percent of gross domestic product, from the record deficit of 2.2 trillion naira set out by President Muhammadu Buhari last month, Finance Minister Kemi Adeosun said in an e-mailed statement on Thursday.
The budget will remain within the "comfort zone for the international rating agencies" and help the government boost growth to 4.2 percent this year, she said.
Africa's largest economy derives almost all export earnings and two-thirds of government revenue from oil proceeds. Growth probably decelerated to 3.2 percent last year, the slowest pace since 1999, according to a Bloomberg survey of economists.
Deficit Plug
The government will borrow about 1.8 trillion naira in 2016 to plug the deficit. As much as 56 percent of that, equivalent to $5 billion, will be external debt, including from multilateral agencies and the Eurobond market, Adeosun said.
By doing so Nigeria will keep its promise to raise spending on transportation, housing, roads and power despite the drop in crude prices, she said. The budget will be 6.1 trillion naira this year, an increase of about 20 percent from 2015.
"We are firmly committed to the counter-cyclical budget expenditure model," she said. "Therefore we will not reduce our investment in infrastructure."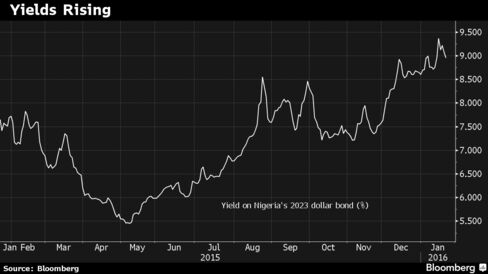 Nigeria has issued dollar bonds twice, most recently in 2013. Yields on its Eurobonds due July 2023 fell 16 basis points to 9.06 percent at 7:54 a.m. in London. They have risen from under 5 percent since May 2015 as the economy has weakened and investors have pulled out of emerging markets in anticipation of rising interest rates in the U.S., which makes assets there more attractive.
Brent crude prices have decreased 18 percent this year to about $30 per barrel. If they fall further, Nigeria will "bridge the revenue shortfall by sale of non-strategic assets and increasing the participation of the private sector in delivery of key projects," Adeosun said.
Before it's here, it's on the Bloomberg Terminal.
LEARN MORE