How a Further Fall in China's Yuan Could Shake the World
Modeling the effects of a 10 percent drop against the dollar.
China's weakening currency has rattled investors around the globe. How much of a threat does it pose?
QuickTake The People's Currency
Oxford Economics modeled scenarios exploring a 10 percent fall in the yuan by the third quarter of 2016 and the spillover response of rival currencies.
In itself, a significant move in the yuan against the dollar, if not accompanied by a growth shock in China or higher financial stress globally, would have only a minor impact on world growth and inflation.
But if other exchange rates respond to yuan weakness, as they did recently, the effect suddenly becomes more substantial and differentiated.
Here's how Oxford reckons this scenario would play out:
Euro zone and Japanese growth would be among the hardest hit because their effective exchange rates would gain, adding deflationary pressure. That could force the European Central Bank and Bank of Japan to ramp up quantitative easing.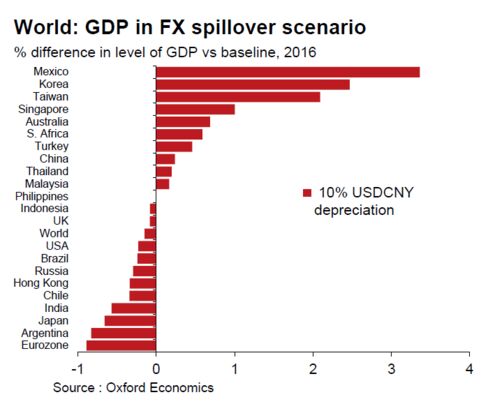 World growth would slow to 2.4 percent, from Oxford's current forecast of 2.6 percent, and the U.S. Federal Reserve would raise interest rates only once this year. South Korea, Taiwan, and Mexico would benefit, given that their export competitiveness would be boosted by a weakening of their currencies in response to that of China.
But here's the rub: China wouldn't see much of an export boost because of the moves in rival exchange rates.
"This finding lends credibility to the Chinese authorities' insistence that they do not wish to engineer a competitive devaluation," said Alessandro Theiss, economist at Oxford Economics.
The yuan fell to a five-year low last week, bringing its drop over the past year to more than 5 percent.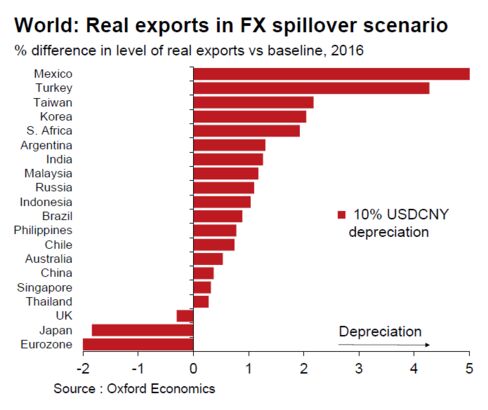 The Oxford Economics analysis didn't factor in additional financial stress alongside the yuan's weakness, something that would slow growth further. Their base case is for the yuan to fall 3.5 percent against the dollar by the third quarter, accompanied by global market volatility largely driven by the mixed signals and uncertainties coming out of China.
Whatever the outcome, the People's Bank of China could do with improving transparency around its yuan intentions, former Federal Reserve Chairman Ben Bernanke said in Hong Kong on Tuesday.
"One of my concerns is that the PBOC hasn't been as transparent as they usually are."