Hang Seng Index Sinks Below Net Assets for First Time Since 1998
Hong Kong's benchmark stock index deepens bear-market rout

Concern over capital outflows, weaker dollar spurs selloff
Hong Kong stocks fell below the value of their net assets for the first time since 1998 as concerns over capital outflows and China's economic slowdown sent the Hang Seng Index deeper into a bear market.
The benchmark gauge slumped 1.8 percent at the close, pushing its price-to-book ratio below one, a level unseen since the Asian financial crisis roiled regional markets and popped a domestic property bubble almost 18 years ago. The Hong Kong dollar traded near its weakest since August 2007, while benchmark money-market rates jumped to a more than six-year high.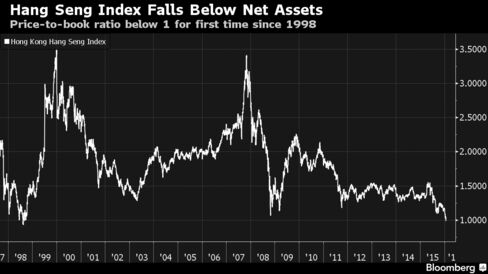 Money is flowing out of Hong Kong, one of the world's most open economies, as China's growth slows to the weakest pace since 1990 and speculators bet on an end to the city's currency peg to the dollar. The capital outflows are pushing up interbank borrowing rates, heightening concern that higher financing costs will weigh on the city's banking and real estate industries.
"It's terrible," said Ronald Wan, chief executive at Partners Capital International in Hong Kong. "There's panic selling as short sellers targeting the Hong Kong dollar raised concerns over capital outflows. The Hong Kong market is clearly in oversold territory. But we may see a 10 to 15 percent loss from here under a worst-case scenario."
The Hang Seng Index has already plunged 35 percent from its April high, while Hong Kong dollar forwards sank to their weakest level since 1999 on Wednesday. Centaline Property Agency Ltd.'s gauge of secondary home prices has slumped almost 9 percent from its September record.
Beaten-Down Markets
The Hang Seng index's drop below book value puts it in the same league as some of the most beaten-down markets in the world. They include Brazil, where the worst recession in decades has sent the benchmark index to 0.9 times net assets, and Egypt, which has a multiple of 0.8. The Standard & Poor's 500 Index trades at 2.5, while China's Shanghai Composite Index is valued at 1.7 times net assets.
More than half of the Hang Seng gauge's 50 members have a price-to-book ratio below one, with New World Development Co. and Wharf Holdings Co. priced at less than 0.4 times net assets, data compiled by Bloomberg show. While Hong Kong does have companies with high valuations, such as Tencent Holdings Ltd. and Hong Kong Exchanges & Clearing Ltd., their impact on the index is overshadowed by low-priced banks, energy firms and industrial companies with large asset bases.
Structured Products
Hong Kong's market may be coming under selling pressure as investment banks unload futures they've used to hedge issuance of structured products, according to William Chan, the head of Asia Pacific equity derivatives research at Bank of America Corp.'s Merrill Lynch unit in Hong Kong. He said banks have purchased futures on the Hang Seng China Enterprises Index, a gauge that shares many constituents with the Hang Seng Index, and will unwind those positions when the China measure falls below the 8,000 level. It dropped 2.2 percent to 7,835.64 on Thursday.
Weakness in the Hong Kong dollar has also weighed on sentiment. The currency, which is kept in a HK$7.75-HK$7.85 trading range, moved to the weak side of that corridor this week and traded at HK$7.8150 on Thursday.
HKEx Optimism
"Markets are concerned about capital outflows from Hong Kong should the currency move to the upper end of the peg band," said Binay Chandgothia, a portfolio manager at Principal Global Investors in Hong Kong. "Given the magnitude of the fall over such a short span of time this year, markets can react positively equally fast should a positive trigger emerge."
Right now, there are few places for investors to hide in Hong Kong's market. The proportion of Hang Seng Index members hitting new 52-week lows rose to 64 percent on Wednesday, the highest since October 2008.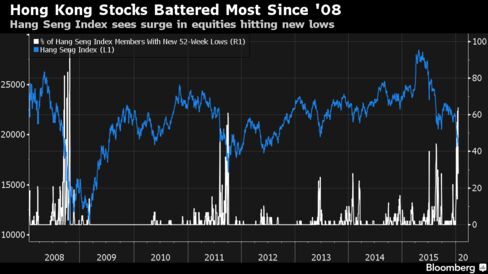 The head of the city's bourse operator reiterated his view that Hong Kong's role as a gateway to China will pay off in the longer term.
"Our vision is focused on connecting mainland China with the world," HKEx Chief Executive Officer Charles Li said as he unveiled a 2016-2018 strategy on Thursday. "Only if we focus on China we will be able to develop rapidly and prepare in advance for any emerging risks."
HKEx shares dropped 3.3 percent, extending their decline this month to 18 percent.
Developers and banks were among the biggest drags on the Hang Seng index as money-market rates climbed. Billionaire Li Ka-Shing's Cheung Kong Property Holdings Ltd. slid 4.8 percent, while HSBC Holdings Plc's Hong Kong-listed shares dropped 2.4 percent.
The city's interbank borrowing costs climbed above U.S. dollar rates for the first time in two months. The three-month Hong Kong Interbank Offered Rate rose by about eight basis points on Thursday to 0.63 percent, bringing this week's increase to 21 basis points. That compares with 0.62 percent for the London Interbank Offered Rate for U.S. dollars on Wednesday.
While investor attention may shift toward corporate profits as companies begin to unveil quarterly and annual results toward the end of this month, analysts see little scope for optimism. They're predicting a 12 percent drop in the Hang Seng index's earnings per share over the next 12 months, according to data compiled by Bloomberg.
Before it's here, it's on the Bloomberg Terminal.
LEARN MORE