Glaxo Chief Says Consumer Health Unit Can Exist on Its Own
Witty sees no rationale for spinoff of vaccines business

Drugmaker will keep focus on organic growth, not M&A
GlaxoSmithKline Plc's consumer health unit could be "conceptually thought about on its own," Chief Executive Officer Andrew Witty said as he considers investors' demands to break up the U.K. drugmaker.
The unit, which makes Sensodyne toothpaste and the painkiller Panadol, probably won't be spun off in the next 18 months, Witty said in a Bloomberg Television interview with Hans Nichols and Jonathan Ferro in Davos, Switzerland.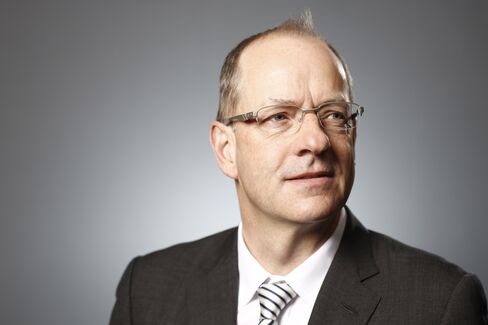 Consumer health is on its way toward being worth as much as 10 billion pounds ($14 billion) and to double its profit margins, according to Witty.
"That's a very substantial business," he said. "At some moment, that thing is going to be big enough to be conceptually thought about on its own. Whether or not we ever do that, there are 100 different permutations, but for the first time that could be conceptually possible."
Some investors have called for Glaxo to split up to help boost a stock that has stagnated over the past year. The drugmaker is currently made up of units focused on pharmaceuticals, vaccines, HIV medicines and consumer-health products. There's no rationale for separating the vaccines unit from the rest of pharmaceuticals, Witty said.
Glaxo rose 1.25 percent to 1,374.50 pence at 8:21 a.m. in London. The stock is little changed since the start of the year.
The London-based company will continue to focus on organic growth rather than mergers and acquisitions, according to Witty. He declined to comment on what Glaxo would do if the U.K. left the European Union. Any steps to improve the bloc's competitiveness is good, he said.
(Click DAVOS for a real-time Brief on the World Economic Forum)
Before it's here, it's on the Bloomberg Terminal.
LEARN MORE