Ruble Tumbles to Record as Oil Slump Hinders Russia's Recovery
Currency touches all-time low past 81/USD as crude slides

Russia earning least from each barrel of oil in about 6 years
The ruble slumped to an all-time low as oil's retreat choked revenue of the world's largest energy exporter and restricted Russia's ability to lift its economy out of a recession.
The currency weakened as much as 4.1 percent to 81.941 against the dollar, surpassing the previous record it touched at the peak of Russia's financial-market turmoil in December 2014. Unlike then, when the central bank stepped in to shore up the ruble amid a crisis in confidence in the country due to sanctions over Ukraine, now Governor Elvira Nabiullina says the ruble is trading at a fair value and doesn't need support.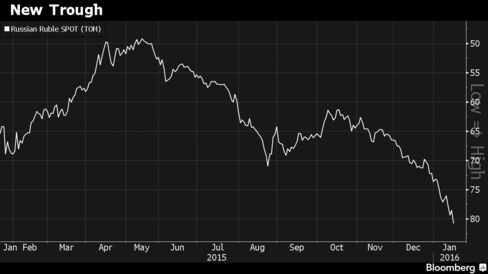 While the ruble has fallen more than any other emerging market in 2016 with a depreciation of almost 10 percent, Brent crude has slumped by a steeper 26 percent. That's driven Russia's earnings from each barrel of oil it sells to the lowest since 2010 and forced the government to start considering austerity measures to avoid draining its rainy-day fund used to cover shortfalls in the budget.
"Oil is still a falling knife," said Piotr Matys, a strategist for emerging-market currencies at Rabobank in London, who's next potential target is for the ruble is about 82.57. "The precipitous depreciation of the Russian ruble may have negative implications for inflation expectations, which would prevent the central bank from resuming its easing cycle."
The Bank of Russia won't intervene in the foreign-exchange market unless the ruble's swings threaten the stability of the nation's banking industry, Nabiullina said in an interview on Wednesday. When it briefly crossed 80 per dollar on Dec. 16, 2014, the ruble quickly recovered much of the day's losses in part due to the central bank's decision to unexpectedly raise interest rates by six percentage points.
'Fundamental Levels'
The currency is close to its "fundamental levels," Nabiullina said. "We will intervene only if we see risks to financial stability. There aren't such risks now."
The selloff was part of a broader rout gripping emerging markets, which pushed a gauge of 20 exchange rates to its lowest on record on Wednesday and sent stocks and bonds tumbling. The Micex Index fell 0.9 percent and yields on Russian 10-year local-currency bonds surged 41 basis points to 10.93 percent, the highest since Oct. 2.
"If oil falls to $25, we can see the ruble hitting 83 against the dollar," said Vadim Bit-Avragim, a money manager at Kapital Asset Management LLC in Moscow. "The ruble is still relatively strong compared to oil. This isn't the worst scenario."
The ruble was down 4.1 percent to 81.774 per dollar by 7:08 p.m. in Moscow as Brent crude retreated 3.5 percent to $27.75 a barrel, bringing its slide in the past 12 months to 42 percent. The price of oil in ruble terms was 2,267 per barrel, near the lowest level since 2010, according to data compiled by Bloomberg.
More Downside
Russia's economy has posted quarterly contractions since the first three months of last year as oil's plunge and U.S. and European sanctions hurt demand. Gross domestic product will probably shrink another 0.5 percent this year, while the government's budget deficit will hold at 3 percent of GDP, according to forecasts compiled by Bloomberg.
The weakening currency is making it harder for policy makers to resume interest-rate cuts to shore up the economy since the depreciation threatens to add fresh impetus to inflation that fell to a one-year low of 12.9 percent in December. Forward-rate agreements are signaling a 10 basis-point rate increase in the next three months, compared with 20 basis points of cuts just one week ago, according to data compiled by Bloomberg.
'Right Price'
While Luis Saenz, the head of equity sales and trading at BCS Financial Group in London, said 80 per dollar is the "right price" for the ruble, derivatives traders are projecting further declines, according to three-month risk-reversal data on Bloomberg.
"Since there is no conviction in the oil slump coming to an end, it's hard to see the ruble regaining momentum," said Ivan Tchakarov, chief economist for Russia at Citigroup Inc. in Moscow, predicting a recovery to 70.4 in the next six to 12 months as oil averages $40 for the year. An intervention is unlikely because "we still don't seem to detect panic in the foreign-exchange market," he said.
Before it's here, it's on the Bloomberg Terminal.
LEARN MORE