Lagarde Gets Support From Europe, Former Rival for New IMF Term
Germany, France, U.K. offer backing for ex-French minister

Mexico's Carstens endorses after running against her in 2011
Christine Lagarde picked up support from across Europe and a onetime rival for a second term as leader of the International Monetary Fund as part of a selection process that member nations intend to complete by early March.
Germany, France, the U.K. and Spain all came out on Thursday for Lagarde, whose current term ends on July 5. Lagarde said China was also backing her for a second term. Mexico's central bank chief Agustin Carstens, who lost the contest with Lagarde to become IMF managing director in 2011, said he's not running for the post now and that she deserves a chance to finish her work.
The support reinforces expectations that Lagarde, 60, is all but a lock to be reappointed, though legal charges related to actions taken when she was French finance minister remain a potential risk. Individuals can be nominated by a fund governor or executive director through Feb. 10, the Washington-based institution said, and Aleksei Mozhin, dean of the fund's executive board, said Wednesday that the board aims to reach a decision by consensus.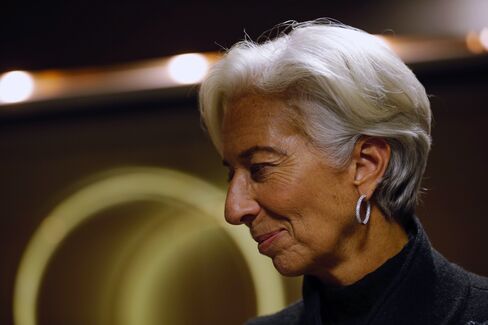 "She both should and I think will get a second term," Adam Posen, president of the Peterson Institute for International Economics, said at the World Economic Forum in Davos, Switzerland. "I'm also a big fan of the Lagarde IMF. The team she's put together -- they're all truth-tellers and they've tried to turn the boat around."
At the fund's annual meeting in Lima in October, Lagarde said she'd be open to serving another term. While she's still the front-runner and analysts said the case is unlikely to derail her reappointment, the prospect of a politically charged trial in her home country may still complicate her future at the IMF. Lagarde has repeatedly pleaded her innocence in the case.
Visionary
U.K. Chancellor of the Exchequer George Osborne said in a Twitter posting that he was "delighted" to nominate Lagarde for a new term, describing her as "an outstanding leader with vision & acumen" to steer the global economy in the coming years.
Germany's Finance Ministry said in a statement that Lagarde had shown herself to be "a prudent and successful crisis manager in difficult times." Lagarde told Bloomberg Television that she was "extremely pleased" to receive the support.
Speaking in Davos, Finnish Finance Minister Alexander Stubb said that Lagarde "definitely" has his country's support for a second term.
Watch Next: Finland Finance Minister on European Refugee Crisis
"Lagarde is an amazing professional and a true champion of financial issues," he said in a Bloomberg TV interview.
Mexico's Carstens also said on Bloomberg TV that "the membership should give her the chance to continue working, and I am sure she will have a very good additional five-year period."
U.S. Endorsement
Treasury Secretary Jacob J. Lew, in an interview on CNBC on Thursday, praised Lagarde but stopped short of giving her the U.S.'s official endorsement.
"I have the highest regard for her, I think she's done a great job and I look forward to continue working with her," Lew said in Davos. "I actually think that what she said earlier this week is right: There are a lot of countries in the world that think they ought to be part of this conversation."
The fund's 188 member countries will be keen to avoid adding to the negative publicity generated by the legal troubles of former IMF heads Dominique Strauss-Kahn and Rodrigo Rato, said Andrea Montanino, who served as an executive director at the fund until last year. Mozhin said the executive board has adopted an open, merit-based, and transparent process for the selection of managing director, similar to the one used in the previous round.
"Let me thank those countries that nominated me," Lagarde said in an interview in Davos. "I'm very honored, I'm very, very flattered."
(An earlier version of this story incorrectly stated Lagarde's age.)
Before it's here, it's on the Bloomberg Terminal.
LEARN MORE