Aberdeen Is Loading Up on Stocks And Wants More If Rout Deepens
Scottish fund manager favors emerging-markets equities

With low share prices, it's easier to make money: Aberdeen
The plunge that has erased as much as $15.8 trillion from global equities is creating a historic buying opportunity for Aberdeen Asset Management Plc.
With stocks near their cheapest prices since 2013, the Scottish asset manager has increased its funds' exposure to the asset class by between 0.5 percent and 1 percent, its chief investment officer Anne Richardssaid in an interview. And she's ready to buy more. Among her favorites? Emerging-market shares -- China is still growing strongly and is a positive contributor to the global economy, she said.
The selloff "may be the best buy opportunity we've seen in a long time," Richards said from Zurich. "We're somewhere close to the bottom of the barrel. We'll buy more if the market drops even further. The more painful it is, the more likely we are to make money."
While Aberdeen has suffered withdrawals and its own shares have slumped 55 percent since April, the company isn't the only one betting on a recovery in emerging markets. Strategists at firms including Goldman Sachs Group Inc. and Bank of America Corp. turned bullish on the shares late last year, and Credit Suisse Group AG CIO Michael Strobaek said on Monday they're starting to look attractive. After plunging to an almost seven-year low, stocks in the MSCI Emerging Markets Index are 29 percent cheaper than those in advanced nations.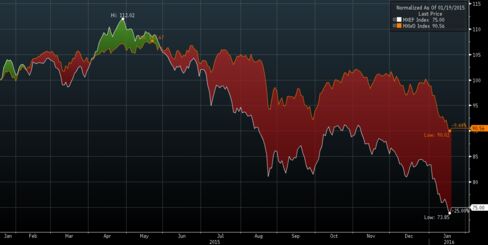 With a quarter of its assets in developing markets, Aberdeen has been particularly hurt by the rout, and investors have been taking money outfrom Europe's third-largest publicly traded money manager. Its chief executive officer said in November that 2016 could be difficult if the oil price remains low. The stock is among the biggest decliners in the U.K.'s FTSE 100 Index since its high in April.
Most of the asset managers in a Bloomberg survey last month said that they will either maintain or cut their holdings in developing-world stocks this year. The biggest ones have erased $2.3 trillion in market value in 2016, with the MSCI gauge plunging 10 percent.
Richards also said she prefers European stocks to U.S. and U.K. equities, specifically "cyber-technology" companies that offer exposure to developments in robotics, gene therapy or food security.
"One thing that I'm absolutely certain of is that while it looks absolutely horrible right now, it will be easier to make money from these levels than it was 12 months ago," she said.
Before it's here, it's on the Bloomberg Terminal.
LEARN MORE