New Zealand on Deflation Brink as Prices Fall More Than Forecast
Prices fell 0.5% in fourth quarter, the most since 2008

Currency slumps more than half a U.S. cent after data
New Zealand is on the brink of deflation after prices fell more than economists forecast in the fourth quarter, heaping pressure on the central bank to cut interest rates to a fresh record low.
Consumer prices fell 0.5 percent from the third quarter, Statistics New Zealand said Wednesday, the third decline in five quarters and more than the 0.2 percent drop economists expected. That pushed the inflation rate down to 0.1 percent, the weakest since 1999 when New Zealand last experienced deflation, or annual price declines.
Investors increased bets that Reserve Bank Governor Graeme Wheeler will cut the official cash rate further this year after he reduced it four times in 2015 to a record-low 2.5 percent. Falling oil prices and a weaker global growth outlook are thwarting Wheeler's attempts to return the prices gauge to the middle of his 1-3 percent target range.
Today's data "could prove to be a game changer for the RBNZ as it leaves New Zealand on the cusp of outright deflation," Paul Dales, chief economist for Australia and New Zealand at Capital Economics, said in an e-mail. "It may not quite be enough to prompt the RBNZ to cut rates at next Thursday's policy meeting, but it certainly supports our non-consensus view that rates will be cut from 2.5 percent to 2 percent this year."
The New Zealand dollar slumped more than half a U.S. cent. It fell as low as 63.89 U.S. cents from 64.70 cents immediately before the release, and traded at 64.00 cents at 12:57 p.m. in Wellington.
Rate-Cut Bets
Traders now see about a 70 percent chance of a rate cut by June, according to swaps data compiled by Bloomberg. That's up from 26 percent at the start of the year. All 17 economists surveyed by Bloomberg expect no change in the cash rate at the next review on Jan. 28, while five predict lower rates by June.
Inflation, which slowed from 0.4 percent in the third quarter, has been below the 2 percent midpoint of the central bank's target band since late 2011. Wheeler on Dec. 10 said he expected to return the gauge to the middle of his target "at current interest-rate settings," although the central bank would reduce borrowing costs further if circumstances warranted it.
Confidence Rebound
Despite price weakness, there are signs of a pickup in economic growth. Business confidence rebounded in the fourth quarter, the New Zealand Institute of Economic Research said yesterday. It expects the cash rate to remain unchanged this year.
The case for further monetary easing "remains conditional on further deterioration in the global economy, and would need to be set against the reasonably solid domestic data pulse in New Zealand over recent months," said Phil O'Donaghoe, an economist at Deutsche Bank in Sydney. "Our central view remains that 2.5% will remain the low point for the OCR this cycle."
Today's data is weaker than the Reserve Bank's estimate that prices rose 0.4 percent in the fourth quarter from a year earlier. The central bank also forecast Dec. 10 that inflation would accelerate to 1.2 percent in the first quarter of 2016 and reach 2 percent by the final quarter of 2017.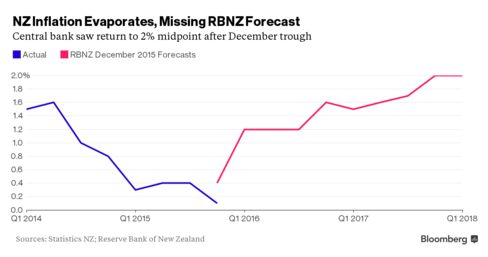 The central bank expected the impact of last year's oil-price drop to fall out of the inflation calculation this year. In the event, oil prices have continued to slump.
Gasoline prices slid 7 percent from the third quarter and 8.1 percent from a year earlier, the statistics agency said today. Excluding gasoline, the consumer price index fell 0.2 percent in the quarter and rose 0.5 percent from a year earlier, it said.
Non-tradable inflation, a core measure of prices not influenced by the currency and fuel, rose 0.5 percent from the third quarter led by rents and the cost of building new homes.
From a year ago, non-tradables prices gained 1.8 percent
Tradables prices, which are influenced by currency movements, slumped 1.8 percent from the third quarter led by gasoline and vegetables.
From a year ago, tradables prices fell 2.1 percent.
Before it's here, it's on the Bloomberg Terminal.
LEARN MORE