European Bank Stocks Rewind to 2012 as Draghi Rally Wanes: Chart
The bank-stock rally sparked in 2012 by Mario Draghi's pledge to save the euro is fizzling.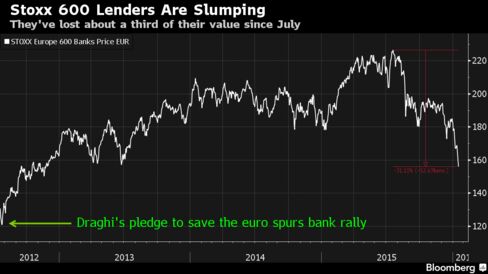 Lenders in the benchmark Stoxx Europe 600 Index have erased about a third of their value since reaching a four-year high in July, falling to their lowest levels since November 2012. The European Central Bank president's vow that year to do whatever it takes to avert a breakup of the region stoked investor optimism and helped bank shares almost double in the three years that followed.
Now, lenders are grappling with tougher financial regulations, concerns about levels of bad loans and a slowdown in China that could hurt growth prospects around the world. The Stoxx 600 Banks Index has tumbled 15 percent in 2016 alone.
Before it's here, it's on the Bloomberg Terminal.
LEARN MORE