Carrier expects to save more than $3 billion for full year

Currency pressures are forecast to weigh on unit revenue
Delta Air Lines Inc. rose after the company said it expects to pay the lowest price for fuel since its 2008 merger with Northwest Airlines.
Tumbling oil prices will help the company save more than $3 billion over this year, Chief Executive Officer Richard Anderson said in a statement Tuesday. Fuel is expected to cost $1.20 to $1.25 a gallon in the first quarter, compared with $1.85 a gallon in the last three months of 2015, the Atlanta-based carrier said.
"To come out and say it's going to be between $1.20 to $1.25, that's pretty remarkable," said Adam Hackel, an associate analyst at Sterne Agee CRT. "I almost fell back in my chair a little."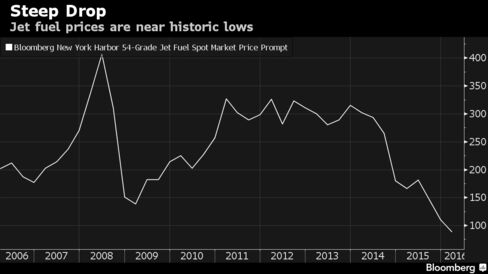 Delta, the first major U.S. airline to report fourth-quarter results, is poised to continue benefiting after U.S. crude prices fell this month to the lowest since 2003. The six largest carriers will report combined adjusted fourth-quarter profit of $4.1 billion as cheaper fuel outweighs worries over low fares and weaker foreign currencies that reduce demand overseas.
The stock rose 3.3 percent to $45.96 at the close in New York. Delta's shares rose 3.1 percent last year as the Standard & Poor's 500-Stock Index fell 0.7 percent.
If the carrier's jet-fuel forecast for the first quarter proves correct, the airline would pay the lowest price since at least 2008, according to data compiled by Bloomberg.
Delta reported fourth-quarter profit excluding some items of $1.18 a share, missing the $1.19 average analyst estimate compiled by Bloomberg. Sales fell 1.5 percent to $9.5 billion, compared with an estimate of $9.6 billion.
The airline reported record profit of $926 million, excluding some items, easily topping the $649 million reported a year earlier.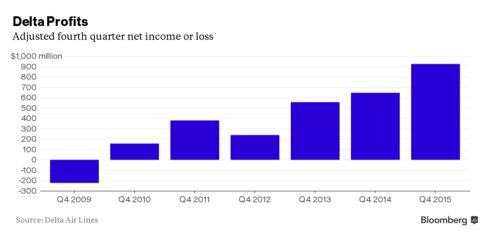 Delta forecast that unit revenue may fall by 2.5 percent to 4.5 percent this quarter, citing "international volatility and currency pressures." Aggressive growth and discounting by some U.S. carriers have weighed on airline stocks, with price battles occasionally leading to one-way fares that are cheaper than a bus ticket. Investors have watched for signs of an expected increase in unit revenue, which measures passenger revenue from each seat flown a mile.
Investors probably were relieved that Delta predicted a relatively modest decline in the key revenue gauge, Hackel said. Most analysts had estimated a 3.5 percent decline, he said.
"I believe it is in the ball park of what investors were thinking and there is some relief that it came in that range," Savanthi Syth, an analyst at Raymond James Financial, said by e-mail. She had estimated a drop of 4 percent.
Before it's here, it's on the Bloomberg Terminal.
LEARN MORE