Hollywood Studios Fight Back as EU Attacks Content Curbs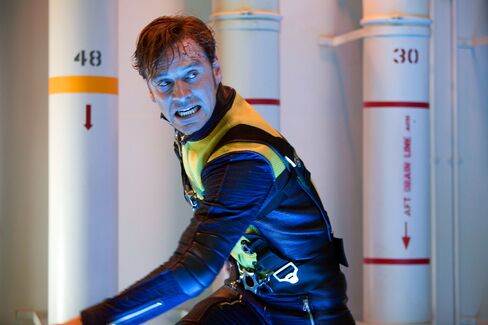 20th Century Fox, Sky and others try to sway EU against fines

EU holds three-day Brussels antitrust hearing on pay-TV case
Hollywood studios including 20th Century Fox as well as pay-TV giant Sky Plc are seeking to stave off possible European Union fines as the bloc's antitrust chief takes aim at curbs on where they sell content.
Regulators sent the companies a so-called statement of objections last year, attacking industry contracts that prevent people viewing movies and TV programs outside the country in which they are sold. Walt Disney Co., Time Warner Inc.'s Warner Brothers unit, Comcast Corp.'s NBCUniversal Media, Sony Pictures and Viacom Inc.'s Paramount Pictures also have the chance to rebuff EU arguments as a three-day hearing started Monday morning in Brussels.
Margrethe Vestager, the EU's competition commissioner, vowed on Sunday to tackle such curbs as soon as she can. She said she'll detail the EU's concerns with geo-blocking, or limits on where online content can be used, before the end of March. Regulators are also looking at how video games companies restrict what they offer in different EU countries.
"With so much at stake, we need to act quickly when we discover problems -- such as contracts that try to divide up our digital single market into separate, national markets," she said in a speech in Munich.
Sky declined to comment on the EU hearing. The other companies didn't immediately respond to e-mailed requests.
Premier League
The pay-TV case has alarmed and excited many other organizations, with European consumer advocates, other broadcasters and even England's soccer Premier League flagging concerns about how a ruling might change how films, sports rights and other content is sold in the region.
BEUC, the European consumer organization, asked to join the case last year, telling the EU that "so-called geo-blocking clauses are detrimental to consumers who cannot access" content in their own country. Under EU principles, people in one part of the 28-nation bloc should be able to access goods and services elsewhere in the EU.
"The outcome of this competition case could have an important impact" on future laws over access to video online, Agustin Reyna, a legal officer for BEUC, said in an e-mail. Contracts between the studios and broadcasters "reduce choice and prevent the development of quality legal offers in national markets."
Video Streaming
The EU is separately aiming to create rules allowing people use services such as video streaming from Netflix Inc. when they travel outside their own country. This portability "does not solve the lack of cross-border access," Reyna said.
At the same time, the Premier League, which sold English soccer broadcast rights for a record 5.1 billion pounds ($7.3 billion) for the seasons lasting through 2018-2019, is concerned about how the EU could apply a court ruling about satellite broadcasts to the Internet. TV broadcasters in other European countries pay far less to view the same games because the potential audience is far smaller.
"If we can't use territorial arrangements, at least when it comes to cross-border access, the end result will be very different" and may lead to the sale of one more costly license to show content across the EU, said Mathieu Moreuil, head of European public policy at the Premier League. "It's going to be less content and much more expensive rights."
The EU's case focuses on people who may want to view content sold in another country. Only "a very limited number of Internet users" -- 8 percent of more than 26,000 people surveyed by the EU last year -- have tried to access content online that's meant for users in another country.
Moreuil says the issue of viewing content outside one EU nation is "mainly for expats" and more of a concern in Brussels, where the European Commission is based, and an unusually international city with more than a third of its residents, or 398,726 people, with foreign nationality, according to the city's tourist office. The EU itself employs 40,000 people in the city.
"It's a much more important issue in Brussels than it is in Paris or Berlin," Moreuil said.
Before it's here, it's on the Bloomberg Terminal.
LEARN MORE