Coffee Harvest in Indonesia to Tumble From Record on El Nino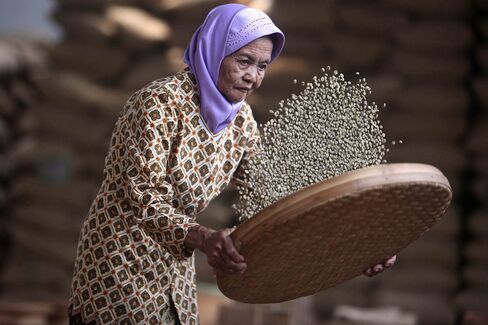 Low Brazil, Indonesia crops to support robusta, Rabobank says

Indonesian roasters to boost imports as local supplies tighten
Coffee production in Indonesia will probably drop 20 percent next year from a record as the strongest El Nino in almost two decades hurts crops in the world's third-largest producer of robusta beans.
The harvest may slide to 560,000 metric tons in the year starting April 1 from 700,000 tons this year, according to the median of estimates from six traders and analysts compiled by Bloomberg. That would be the steepest decline since the 2006-07 season, according to U.S. Department of Agriculture data.
A smaller Indonesian crop will potentially widen a global deficit of the beans used by companies including used by Nestle SA, and support prices that slumped 20 percent last year. El Nino is largely responsible for the dryness in the fourth quarter of 2015 in Indonesia, according to Rabobank International. The weather event has hampered cocoa crops in Ivory Coast, curbed the monsoon in India and forced the Philippines to import more rice.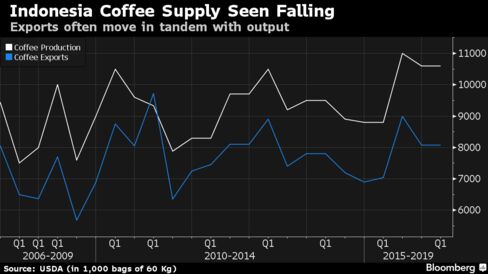 "Dryness in Indonesia is textbook El Nino," Carlos Mera Arzeno, commodities analyst at Rabobank in London, said by e-mail Jan. 13. "We expect robusta prices to go up to above $1,580 a ton by mid 2016, as a double-whammy of a lower robusta crop in Brazil and in Indonesia hits the market from April onward," he said.
'Larger Drop'
Arzeno expects a 20 percent decline in the Indonesian harvest to 600,000 tons next season and said "we don't rule out a much larger drop in production."
The El Nino may strengthen in the short term because of recent tropical cyclone activity in the Pacific Ocean, according to Australia's Bureau of Meteorology. The event is still expected to decay over coming months, with a return to neutral conditions expected in the second quarter, it said on Tuesday.
Robusta on ICE Futures Europe rose 0.1 percent to $1,421 a ton by 9:25 a.m. in London on Tuesday. The market for robusta beans will face a shortage of 100,000 bags of 60 kilograms each in 2015-16 season which started in October in most countries after a surplus of 800,000 bags a year earlier, according to Swiss trader Volcafe, a unit of commodities merchant ED&F Man Holdings Ltd.
While the output in Indonesia's higher altitude lands was less affected by the drought, dryness damaged crops and wiped out harvests in some lowland areas in Sumatra and Java, including in Lampung, said Hutama Sugandhi, head of Indonesian Coffee Exporters' Association.
The provinces of Lampung, Bengkulu and South Sumatra are the main robusta areas in Indonesia, producing about 75 percent of the country's output. Beans from the area are shipped from Panjang port in Lampung. Arabica is grown mostly in northern Sumatra and Java, and accounted for 16 percent of the total harvest in 2014-15, USDA data show.
A shrinking domestic harvest may prompt Indonesia to increase imports, said Moelyono Soesilo, marketing and purchasing manager at PT Taman Delta Indonesia, a Semarang, Central Java-based coffee trader. Imports are seen between 60,000 and 90,000 tons this calendar year from about 40,000 tons last year, he said.
Before it's here, it's on the Bloomberg Terminal.
LEARN MORE