China's Stock Strategists Are Bracing for a Deeper Bear Market
Valuations still higher than other emerging markets after drop

About 40 percent of Shanghai stocks are oversold, RSI suggests
There will be little let up for investors in China's beleaguered stock market.
That's the consensus of strategists interviewed last week as the benchmark Shanghai Composite Index fell into a bear market on waning confidence that the government can manage the country's transition to a new growth model and to a more freely-traded currency.
Analysts from Bocom International Holdings Co. and Wells Fargo Funds Management say the index may drop 14 percent from Friday's close to 2,500. Zhongtai Securities Co. sees the gauge losing as much as 300 points, or 10 percent, before bottoming out. Phillip Securities and Central China Securities Co. expect more selling pressure even after the Shanghai Composite sank 3.5 percent to 2,900.97 on Friday, falling 21 percent from its December high.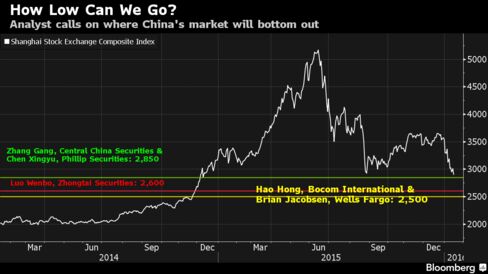 The stock selloff is a setback for President Xi Jinpingas his government attempts to shore up growth and control the gradual globalization of China's markets. Volatility has soared amid confusion over policies, from the central bank's exchange-rate strategy to a failed experiment with share circuit breakers. A review of the turmoil since June exposed loopholes and ineptitude within the regulatory system, Xiao Gang, chairman of the nation's equities watchdog, said over the weekend.
"The Chinese government is really failing at communicating that they have a strategy," said Brian Jacobsen, chief portfolio strategist at Wells Fargo Advantage Funds, by phone on Friday from Menomonee Falls, Wisconsin. "Mr. Xi needs to show that he's the man with a plan." Jacobsen, whose firm oversees $242 billion, forecasts the Shanghai Composite may fall to 2,500.
Government Intervention
The Shanghai Composite added 0.4 percent to 2,913.84 at the close on Monday, reversing a retreat of as much as 1.9 percent.
The slump is rekindling investor trauma from 2015's rout, which wiped out $5 trillion in equity market value. The government has been intervening to support stocks and the yuan after the worst start to a year for mainland markets in at least two decades.
After cheerleading by state media helped fuel an unprecedented boom in mainland shares in the first half of last year, the market crashed over the summer as regulators failed to manage a surge in leveraged bets by individual investors. A state-sponsored campaign sparked a 25 percent rally in the Shanghai Composite through December, but those gains were wiped out on Friday as the index closed at its lowest level since late 2014.
"The slumping stock market, fleeing liquidity, speedy deleveraging activities, augmented by self-defeating redemption at mutual funds and selloffs in futures, spiraled into a full-scale crisis like a domino effect," Xiao, chairman of the China Securities Regulatory Commission, said in the transcript of an internal meeting that was posted on the agency's website on Saturday. An immature bourse and participants, incomplete trading rules and an inappropriate regulatory system were to blame and regulators will learn from their mistakes, Xiao said.
'Disaster Mode'
Losses this year were fueled by a controversial circuit-breaker system, which authorities scrapped in the first week of January after finding that it spurred investors to rush for the exits on big down days.
"The market entered a disaster mode from the start of the year and it's still in that pattern now," Wu Kan, a fund manager at JK Life Insurance Co. in Shanghai, said on Friday. "The market completely has no confidence and the basic reason is that stocks are expensive."
Even after the selloff, the Shanghai Composite trades at a price-to-earnings multiple of 15, compared with the broader MSCI Emerging Markets Index's ratio of 11. From 2012 through 2014, emerging-market stocks were usually pricier than or near parity with China's, while they've been consistently cheaper for the past 13 months.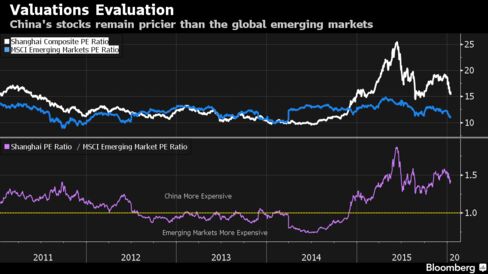 Some analysts said the equity slump will eventually offer buying opportunities.
"Stocks have been oversold recently for circuit breaker and foreign exchange factors," said Luo Wenbo, chief strategist at Zhongtai Securities, referring to the mechanism that halted trading on two of its four days in operation.
"Risk appetite will come back after all these factors phase out and the market will rebound then," he said by phone. "So it's a good time to buy A-shares now."
About 40 percent of the stocks in China's mainland benchmark gauge were oversold at the end of last week, according to a technical indicator known as the relative strength index.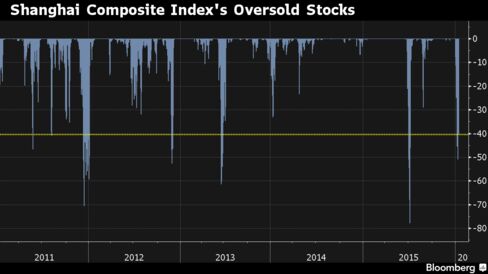 China is due to publish a string of economic data this week. The government will probably report fourth-quarter gross domestic product growth of 6.9 percent on Tuesday, according to economist estimates. They project the pace of annual expansion at 6.9 percent, the slowest since 1990, and that GDP growth will further slow to 6.5 percent this year.
The economy grew about 7 percent last year, Premier Li Keqiang said in a speech this weekend to mark the inauguration of the Asian Infrastructure Investment Bank.
"The Chinese market will see continued volatility," Wayne Lin, New York-based money manager at QS Investors LLC, whose firm oversees $18 billion assets including Chinese stocks, said on Friday. "The government is learning how to communicate and how to manage the market. It's just like what former Chinese leader Deng Xiaoping said 'crossing the river by touching the stones.' When you fall, you pick up yourself and move on."
— With assistance by Haixing Jin, Cindy Wang, and Bonnie Cao
Before it's here, it's on the Bloomberg Terminal.
LEARN MORE