Value of VC investments last year more than doubles from 2014

Investments declined about 40 percent in the fourth quarter
Venture capitalists poured a record $37 billion into China startups last year, more than double the previous year's tally, as the country emerges as a legitimate challenger to the U.S. for leadership of the technology industry.
The surge came as venture firms invested in 1,555 China deals, according to London consultancy Preqin Ltd.The pace of deals slowed in the fourth quarter, with the value of investments dropping about 40 percent amid a shakeout in Internet services.
China's venture boom created some of the world's most valuable startups, including smartphone manufacturer Xiaomi Corp., ride-hailing service Didi Kuaidi and peer-to-peer lender Lu.com, officially called Shanghai Lujiazui International Financial Asset Exchange Co. The doubling of venture deals last year came after a tripling in deal value the year before, suggesting there may be more breakout companies on the way.
"The annual shift from $4.5 billion to $15 billion to $37 billion demonstrates the immense appetite that the VC industry in China is currently experiencing," Felice Egidio, head of venture capital for Preqin, said in an e-mail.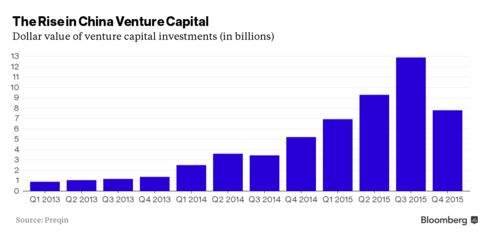 Last year was a banner year globally: Venture funding rose 45 percent to a record $135.8 billion, according to Preqin. Still, exits declined for the first time since the financial crisis in 2008 with fewer initial public offerings or sales of startups. The decline in the number of U.S. and European VC deals was offset by a rise in Asia, especially China, Egidio said.
China is narrowing the gap with the U.S., the birthplace of modern venture capital. The value of U.S. deals hit $68 billion last year, up from $56 billion, according to Preqin.
"In the next five years, there will be more innovation, more invention, more entrepreneurship happening in China, happening in Beijing than in Silicon Valley," Travis Kalanick, founder of San Francisco-based Uber Technologies Inc., the world's most valuable startup, said last week at a Beijing conference. "We gotta play our A-game in order to compete with the best."
Still, there are concerns that too many startups have been set up in certain sectors in China, triggering costly price wars to win customers. Venture investors pulled back in the fourth quarter, cutting $7.8 billion in deals, compared with about $13 billion in the third quarter.
"Venture and private equity investors, who aggressively invested over the last two years, are getting very cautious," Hong Chuan Thor, managing director Highland Capital Partners, said in an e-mail. "First half of this year doesn't look good for entrepreneurs who are raising capital."
There has been a wave of mergers pushed by investors looking to build more profitable businesses. Didi Kuaidi was born out of a combination of competing app makers. Now, Meilishuo.com, a fashion retailer backed by Tencent Holdings Ltd., is combining with rival Mogujie.com to form a company with $3 billion in sales.
It was a similar arc across Asia. After peaking at $18 billion in the third quarter, nearly matching the $18.5 billion in the U.S., venture investments fell by nearly half to $9.4 billion in the last quarter, according to Preqin. It fell at a slower pace in the U.S. to $12.7 billion.
Xiaomi, the world's second-most valuable startup, has faced scrutiny about whether it can live up to its $45 billion valuation. The hardware maker stumbled in its goal of selling 80 million smartphones last year as rivals copy its youthful style and online sales strategy. Co-founder Lin Bin revealed last week the company sold more than 70 million phones.
"I wouldn't say the VC boom has come to an end," said Mingchen Xia, a principal at private-equity firm Hamilton Lane Advisors. "But, in general, the activity will be more rational than in the last two years."
Egidio said the spike of about $13 billion in the third quarter was a blip caused by a handful of monster-sized deals, and despite the fourth-quarter drop, he expects continued strength this year. "There is no reason why the industry cannot continue to grow in China."
Before it's here, it's on the Bloomberg Terminal.
LEARN MORE