Billionaire Ambani's Wealth Grew Most in World as Oil Plunged
Oil's rout helping expand Reliance's gross refining margins

New projects worth $30 billion expected to start in 2016: CLSA
Oil's plunge and the impact on the global economy is hurting many a billionaire. Indian tycoon Mukesh Ambani isn't one of them.
Reliance Industries Ltd., controlled by Ambani, is benefiting from low crude prices as margins swell at the company's refining complex, the world's largest.
Ambani's net worth increased $620 million as of Friday, the most in the world in 2016, according to the Bloomberg Billionaires Index. That's almost five times more than the second-biggest gainer this year, Wal-Mart heiress Alice Walton, who's up $130 million. Among India's 13 billionaires in the world's richest 400, Ambani is also the only one to see an increase in his fortune.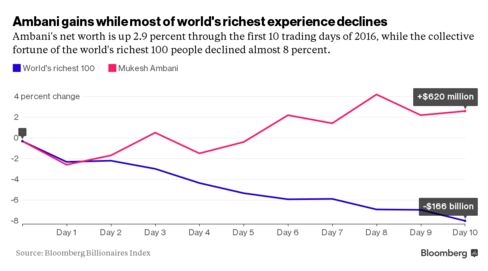 Profit for the December quarter jumped 42 percent from a year earlier to 72.2 billion rupees ($1.07 billion), beating the 70.1 billion-rupee mean of 17 analyst estimates in a Bloomberg survey. Higher refining margins underpinned the performance as oil prices during the quarter were 42 percent lower on average from the year-earlier period.
Reliance earned $11.50 for every barrel of crude it turned into fuels, compared with $7.30 a year and $10.60 in the three months ended September, the company said after the close of market hours on Tuesday.
Investors including BlackRock Inc. have bought Reliance shares, making the Mumbai-based company the best performer on the Bloomberg World Oil & Gas Index over the past three months.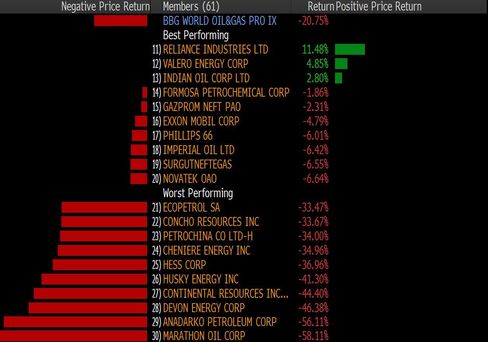 "Any increase in refining margin helps Reliance's profit significantly because that business is the largest contributor to the bottom line," said Sanjeev Panda, Mumbai-based analyst at Sharekhan Ltd. The shares have gained "because of the sharp fall in crude reflecting positively on the margins."
Brent oil has fallen more than 70 percent the last 18 months as the Organization of Petroleum Exporting Countries effectively abandoned output limits amid a surplus. The global benchmark crude on Tuesday jumped 5.5 percent, the most since September, to $30.1 on the London-based ICE Futures Europe exchange at 5:28 p.m. Mumbai time.
Reliance's shares climbed about 14 percent in 2015, ending a seven-year jinx of under-performing the S&P BSE Sensex. The stock slid 37 percent from 2008 through 2014, versus a 35 percent advance in India's benchmark equity gauge, as the company spent billions of dollars to expand its chemicals capacity and plowed $15 billion in a telecommunications venture. The shares climbed 2.6 percent to 1,043.6 rupees on Tuesday.
Reliance Jio Infocomm Ltd., Ambani's telecom unit, plans to sell 150 billion rupees of shares to existing stockholders, according to an exchange filing late Monday.
"Start of projects worth $30 billion across segments will make 2016 the biggest year in Reliance's history," Vikash Kumar Jain, an analyst at CLSA, wrote in a Jan. 4 note.
Watch Next: Oil Under $28: Counting the Cost
Before it's here, it's on the Bloomberg Terminal.
LEARN MORE