U.S. Stocks Recover After Testing Lows Amid Oil Slump; Yen Falls
S&P 500 ends Tuesday trading up 0.1% as utilities rally

WTI oil tumbles back toward $28 a barrel as IEA cuts outlook
U.S. equities erased losses that brought them to the brink of lows not seen since last August's selloff, with gains in consumer and utility shares outweighing losses among commodity stocks as oil resumed its tumble. Haven assets retreated.
The Standard & Poor's 500 Index ended Tuesday up 0.1 percent, while the Dow Jones Industrial Average added 28 points as the U.S. struggled to emulate gains in Europe and Asia that helped a gauge of global stocks rally from a 2 1/2-year low. While Brent crude rebounded, U.S. oil capped a 3.3 percent decline from Friday's close, hovering just above $28 a barrel as the International Energy Agency fueled concern over the global glut. Copper led a rally in metals, while 10-year Treasury yields rose two basis points to 2.06 percent. The yen, regarded as a haven investment, declined with gold prices.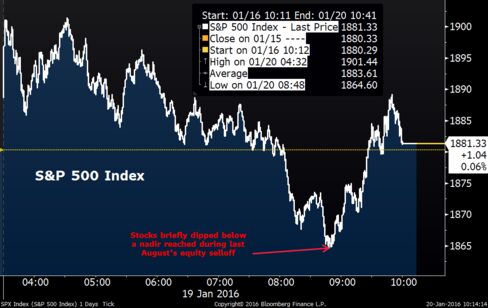 "I don't think we've resolved all the issues in the market," said Nick Sargen, who helps manage $46.2 billion as chief economist and senior investment adviser for Fort Washington Investment Advisors Inc. "The questions left are how much is China's economy in fact slowing down, and when will we see a floor for the price of oil."
The MSCI All-Country World Index rose 0.5 percent on Tuesday, snapping a two-day slump as U.S. shares reversed declines that dominated trading for most of the day. American oil fell back to a 12-year low as the IEA also cut its 2016 estimates for global crude demand and the International Monetary Fund reduced its world growth outlook. Market sentiment remains fragile, with a Bank of America Merrill Lynch gauge of volatility expectations for equities, bonds, currencies and commodities close to its highest level since October. Data showing Chinese growth was in line with government targets bolstered optimism.
Stocks
The S&P 500 rose to 1,881.33 as of 4 p.m. in New York, after earlier sliding as much as 0.8 percent as U.S. markets resumed following a holiday Monday. The gauge has fallen 8 percent this year amid growing concern that China's slowdown will hamper the global recovery at the same time oil's rout entrenches disinflation.
Bank of America fell 1.5 percent, even as its results exceeded estimates. Apple Inc. lost 0.5 percent to weigh on technology shares, while energy producers sank 2.2 percent to the lowest closing level since 2010. Netflix Inc. shares jumped as much as 14 percent in extended trading after the company reported a bigger-than-expected increase in online subscribers
European stocks snapped a three-day decline, rising for the first time since they entered a bear market last week. All 19 industry groups climbed, with commodity producers and energy companies leading gains.
Emerging Markets
The MSCI Emerging Markets Index rose for the first time in four days, gaining 1.6 percent for its steepest gain since November. Benchmarks in Russia and the Middle East climbed more than 2 percent.
Growth in China's industrial production, retail sales and fixed-asset investment all slowed at the end of the year, while gross domestic product rose 6.8 percent in the fourth quarter from a year earlier. The full-year expansion of 6.9 percent, the least since 1990, was in line with the government's target of about 7 percent, and higher than forecasts for as low as 6.5 percent in a Bloomberg survey of economists.
"The slowdown in China is nowhere near as bad as markets feared, plus officials have the ability to intervene and stimulate growth," said Justin Urquhart Stewart, London-based co-founder of Seven Investment Management, which oversees about $13 billion of assets. "It looks like the hangover from this awful start to the year is finally clearing."
The Shanghai Composite Index jumped 3.2 percent, the most since November, with Reorient Financial Markets Ltd. saying government-led funds may have entered to bolster the market. The Hang Seng China Enterprises Index of mainland stocks listed in Hong Kong jumped 3 percent, rebounding from a 2011 low.
Currencies
The yen dropped 0.3 percent to 117.63 per dollar as investors unwound demand for the currency as a haven from turmoil in China. It has strengthened 2 percent this month, the best performer among major peers versus the greenback.
South Africa's rand drove gains in the currencies of commodity producing nations, rising for first time in three days, while Australia's currency gained 0.6 percent and Russia's ruble advanced 0.9 percent. The New Zealand dollar slid 0.6 percent into the Tuesday close, after the country reported a bigger-than-expected drop in quarterly consumer prices.
The pound declined to its lowest level since 2009 after Bank of England Governor Mark Carney signaled that an increase in interest rates is still some way off, citing slowing growth and the outlook for inflation. Sterling dropped as low as $1.4207.
Commodities
The Bloomberg Commodity Index rose 0.2 percent, after closing at the lowest level since at least 1991 on Friday. Brent crude climbed 0.7 percent to $28.76 a barrel, paring its decline this year to 23 percent, while West Texas Intermediate futures sank to $28.46 a barrel.
The IEA, adviser to 28 advanced economies, said Tuesday that global oil markets could "drown in oversupply," sending prices even lower as demand growth slows and Iran revives exports.
Copper gained 0.7 percent in London as stocks jumped in China, the world's biggest metals consumer. Former Federal Reserve Chair Ben Bernanke said China was making "good progress" with financial reforms.
Before it's here, it's on the Bloomberg Terminal.
LEARN MORE