Asian Stock Rout Deepens as Japan, Australia Bear Markets Loom
Nikkei 225, S&P/ASX 200 indexes down 19% from 2015 peaks

Oil price below $30 a barrel for first time in 12 years
Asian stocks fell, with Japanese and Australian shares on the cusp of joining China in a bear market, as a continuing collapse in oil prices heightened concern over the strength of the global economy.
The MSCI Asia Pacific Index lost 1 percent to 118.91 as of 6:59 p.m. in Hong Kong, extending this year's slide to 9.9 percent. Japan's Nikkei 225 Stock Average declined 1.1 percent after plunging as much as 2.8 percent in early trading, while Australia's S&P/ASX 200 Index slipped 0.7 percent. Both are down 19 percent from their 2015 peaks, approaching the 20 percent level that would send them into bear markets.
Oil is below $30 a barrel for the first time in 12 years as global growth worries roil equity, bond and currency markets. Investors awaited 2015 gross domestic product estimates from China on Tuesday as it struggles to boost a slowing economy and money managers debate how many times the Federal Reserve will raise interest rates this year.
"Worries about China, the Fed and global growth are likely to drive continued share market weakness and volatility in the short term," said Shane Oliver, head of investment strategy in Sydney at AMP Capital Investors Ltd., which oversees about $115 billion. "Expect volatility to remain high."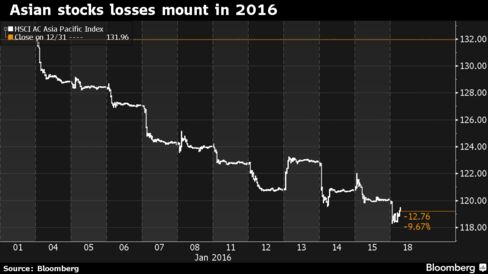 Traders have been whipsawed in 2016, with equities around the world off to their worst start to a year as volatility has soared. The MSCI Asia Pacific gauge, which has been in a bear market since August, is trading at the lowest level since 2012. The HSI Volatility Index rose 6.8 percent in Hong Kong and the Nikkei Stock Average Volatility Index climbed 12 percent, both at the highest since September.
The Shanghai Composite Index entered a bear market last week, for the second time in seven months. China's stock-market watchdog has acknowledged ineptitude and loopholes within its regulatory system after a review of the turmoil that has rocked local markets since June. The Chinese government will probably report annual gross domestic product growth of 6.9 percent on Tuesday, the slowest pace since 1990.
Analysts from Bocom International Holdings Co. and Wells Fargo Funds Management say the Shanghai Composite index may drop 14 percent from Friday's close to 2,500 on waning confidence that the government can manage the country's transition to a new growth model and to a more freely-traded currency.
The measure rose 0.4 percent Monday as China's central bank strengthened its daily reference rate for the yuan by 0.07 percent, the biggest gain in four weeks. Premier Li Keqiang on Friday pledged a "stable" exchange rate, and said the nation has no intention of stimulating exports through competitive currency devaluation.
Japan Slides
The Nikkei 225 Stock Average briefly fell to bear-market levels in early trading Monday, before paring its drop. The Topix index slid 1 percent, bringing its losses from an August high to 18 percent. All but three of the Topix's 33 industry groups fell, led by telecom stocks, real-estate developers, iron and steel producers.
Singapore's Straits Times Index lost 1.4 percent. The market has been one of the worst global performers over the past year, with the benchmark gauge down more than 25 percent from a peak. Hong Kong's Hang Seng Index retreated 1.5 percent, extending a three-year low, and South Korea's Kospi index was little changed. New Zealand's S&P/NZX 50 Index slid 1.1 percent.
Taiwan Election
Taiwan's Taiex Index advanced 0.6 percent after Tsai Ing-wen won this weekend's presidential election in a surprise landslide for the Democratic Progressive Party. Biotechnology stocks surged the most in three years on speculation Tsai will increase funding in the industry to bolster an economy that's estimated to have grown last year at its slowest pace since at least 2009.
Australia's ASX 200 pared earlier losses as Woolworths Ltd. surged 4.4 percent after saying it's exiting Masters -- its unprofitable Australian home-improvements joint venture with Lowe's Cos.
Both U.S. crude and Brent settled below $30 a barrel at the end of last week and the Standard & Poor's 500 Index sank 2.2 percent Friday. Brent oil briefly dropped below $28 a barrel on Monday after international sanctions on Iran were lifted, paving the way for increased exports from the OPEC producer amid a global glut.
E-mini futures on the S&P 500 climbed 0.5 percent. U.S. markets are closed Monday for a holiday.
The U.S. economy is weaker than expected though probably not headed for recession in 2016, Mohamed A. El-Erian said in an interview on Fox News. "We are experiencing a lot of volatility. Growth and wages are lower than where we could've been, but let's not forget it's an economy that creates a lot of jobs," Allianz SE's chief economic adviser said.
Before it's here, it's on the Bloomberg Terminal.
LEARN MORE