Swiss Currency Shock Reverberates One Year After Cap Abandoned
It's the anniversary of Switzerland scrapping euro-franc limit

Pair's bid-ask spread widest since 2009 as liquidity dries up
A year after Switzerland shocked investors by ditching its exchange-rate cap and allowing the franc to strengthen against the euro, the effects of its decision are still reverberating through global currency markets.
Investors say the incident damaged confidence in automated dealing systems and trust in central banks' willingness to stand behind their exchange rates -- crucial now as pressure mounts on currencies that are pegged to others such as Saudi Arabia's. And it was an early warning of the liquidity drought that would go on to exacerbate this week's flash crash in South Africa's rand.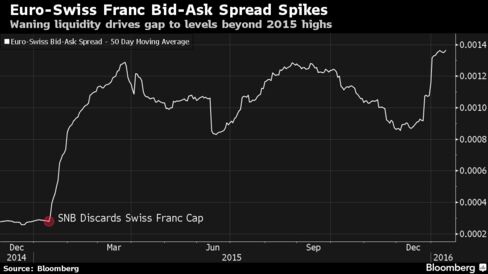 "With liquidity being proverbially a mile wide but an inch deep, we're in a world where spikes in volatility may become a more frequent occurrence," said Mark Dowding, a London-based portfolio manager at BlueBay Asset Management LLP, which oversees $60 billion. "Switzerland served as a reminder that it's hard to fight the fundamentals indefinitely."
Evidence is mounting that the roughly $5 trillion-a-day currency market is less able to deal with sudden bursts of volatility than it was 12 months ago. CLS Group Holdings AG, operator of the world's largest currency-trading settlement system, says activity on its platforms fell 7 percent last year from 2014. That makes it harder to enter and exit trades and tends to stoke volatility. While currency traders need price swings to make money, sudden moves sparked by unforeseen events are a challenge rather than a help to their bottom line.
Bid-Ask
The franc surged as much as 41 percent on Jan. 15, 2015, climbing to a record 85.17 centimes per euro, after the Swiss National Bank decided its 1.20-per-euro exchange-rate cap had become too expensive to defend. At 1.0941 francs as of 5:30 p.m. Zurich time on Friday, the currency was 10 percent stronger than before the cap was abandoned.
Trading in the franc shriveled after the decision, causing liquidity to dry up. The 50-day moving average of the bid-ask spread for euro-franc trades -- the difference between the prices at which dealers buy and sell and a gauge of illiquidity -- has widened to 0.001 francs, four times the level a day before the SNB acted, data compiled by Bloomberg show. That's the widest gap since the height of the global financial crisis in 2009.
The events of that day one year ago prompted some investors to reduce their use of automated dealing systems, whose algorithms are sometimes ill-equipped to handle sudden changes in direction, according to Boston-based consultancy Aite Group LLC.
Algorithms are trading models that churn through data to determine prices, often in milliseconds. When there's no historical reference for the program to latch on to, the systems can become overwhelmed, said Javier Paz, a senior analyst at the company.
'Binary Risks'
"Rumors of losses elsewhere in the market really focused senior management on our algorithmic risk management," said Scott Worton, head of foreign-exchange trading in London at Bank of New York Mellon. "It put the binary risks on the road-map a little bit and substantiated our belief that algorithms are not always the answer."
Switzerland's decision to end its euro cap surprised investors because, days earlier, the central bank's vice president had called the ceiling a "pillar" of its monetary policy. Investors immediately started wondering which currencies might be next. A year on, Saudi Arabia is the focus of speculators' attention, with pressure mounting on the world's biggest oil exporter to break the riyal's dollar peg after a plunge in crude.
Smaller Slice
The franc's share of the foreign-exchange market dropped in the wake of the SNB decision. In April, euro-franc trades accounted for 1.1 percent of turnover in London, the global market's main center, down from 1.5 percent in October 2014, according to Bank of England data. The average daily value of trades across all currencies put into CLS's platforms fell to $4.8 trillion in 2015, from $5.1 trillion the previous year.
The smaller, less-liquid market helped push JPMorgan Chase & Co.'s Global FX Volatility Index to an average 10.1 percent last year, the most since 2011. It was also blamed for worsening the crash in the rand, which took just 15 minutes on Monday morning to plummet 9 percent.
"Post the Swiss event, a lot of liquidity providers have been taking a more conservative view," said Courtney Gibson, head of trading at retail currency broker Oanda Corp. in Toronto. "In the less-liquid currencies, liquidity around major news events has become more of a challenge."
Before it's here, it's on the Bloomberg Terminal.
LEARN MORE