U.S. Stocks Rally From 3-Month Lows as Energy, Health-Care Lead
Exxon Mobil, Chevron lead as Dow adds more than 220 points

Rebound accelerated after dovish comments from Fed's Bullard
Energy and health-care shares led a rebound in U.S. stocks, as the Standard & Poor's 500 Index followed the steepest selloff since September with its strongest gain in a month, and the Dow Jones Industrial Average rallied more than 220 points.
Exxon Mobil Corp. and Chevron Corp. jumped at least 4.5 percent as energy companies in the S&P 500 soared to their largest single-day gain since August. Health-care companies had their strongest advance in more than four months to recover from their biggest slide since Sept. 29. The Nasdaq Composite Index had its best rally in a month, reversing direction today after approaching a 14-month low. Intel Corp. fell in after-hours trading following its quarterly results.
The S&P 500 rose 1.7 percent to 1,921.84 at 4 p.m. in New York, trimming in the final hour of trading a gain of as much as 2.3 percent. The Dow gained 227.64 points, or 1.4 percent, to 16,379.05. The Nasdaq Composite erased a 1.2 percent slide to close 2 percent higher. The Russell 2000 Index increased 1.5 percent after dropping into a bear market Wednesday. About 10 billion shares traded hands on U.S. exchanges, 37 percent above the three-month average.
"This is the relief rally we've been waiting for," said Bruce Bittles, chief investment strategist at Milwaukee-based Robert W. Baird, which oversees $110 billion. "Pessimism had grown to such a level that enough cash had been raised on the sidelines to sport at least a short-term rally. Better-than-expected earnings could be something for the bulls to grasp and provide this rebound some sustainability."
The recovery accelerated earlier while Federal Reserve Bank of St. Louis President James Bullard answered questions from reporters following a speech in which the policy maker, who was a vocal proponent of raising interest rates, sounded a more cautious tone. He said the latest decline in oil prices may delay the return of inflation to the central bank's 2 percent target.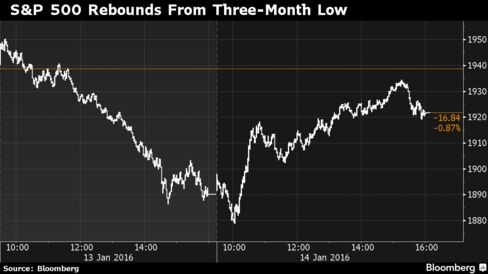 The S&P 500's plunge yesterday triggered a technical signal that indicates it's oversold. The gauge's relative strength index, which measures whether gains or losses have been too fast to sustain, fell below 30, a threshold indicating a rebound may materialize. The last time the RSI was that low was on Aug. 25, when the S&P 500 hit a bottom and rallied 6.5 percent over the next three days.
U.S. stocks tumbled at the start of the year amid weakness in China's equity and currency markets which fanned concerns a slowdown in the world's second-largest economy will spread. Investors are turning their attention to corporate earnings for a gauge on the stamina of U.S. growth.
Intel fell 3.7 percent as of 4:41 p.m. after the chipmaker predicted first-quarter sales that will fall short of some estimates, held back by the continued slump in demand for personal computers. Fourth-quarter profit exceeded analysts' estimates, while sales were nearly in line. Citigroup Inc. and BlackRock Inc. are due to report results tomorrow. Analysts estimate profits for S&P 500 members fell 6.7 percent last quarter.
"We'll have to digest all these earnings numbers and then we'll have a clearer picture, but if you look around the world, there's not many positive drivers," said Benno Galliker, a trader at Luzerner Kantonalbank AG. "Play it safe, that's the message at the moment."
'Emotional Response'
The recent equity selloff is an "emotional response," obscuring expansion in both the American economy and corporate profits, Abby Joseph Cohen, president of Goldman Sachs Group Inc.'s Global Markets Institute, said today. The fair value for Standard & Poor's 500 Index is 2,100, she said.
The main U.S. equity index has declined 9.8 percent from its record set in May, and is 2.9 percent above the bottom of an August swoon, which was also triggered by anxiety over the impact of China's weakness on worldwide growth. The gauge has slumped since the Federal Reserve raised interest rates last month for the first time since 2006.
Before St. Louis Fed President Bullard's comments today, Boston Fed President Eric Rosengren yesterday said estimates for U.S. economic growth are falling, putting the central bank's projected path for rate increases at risk, while the Chicago Fed's Charles Evans said he's nervous that inflation expectations are lower than policy makers think.
The Fed official may have a case. A report today showed the cost of imported goods excluding fuels declined 3.4 percent last year, the biggest annual decrease since records began in 2001. Separate data showed applications for unemployment benefits unexpectedly increased last week, a sign labor market momentum may be starting to cool.
The Chicago Board Options Exchange Volatility Index slipped 5 percent to 23.95. The measure of market turbulence known as the VIX is up about 32 percent this month, on track for the most since a record jump in August.
Energy Surge
All 10 of the S&P 500's main industries gained today, with energy, health-care and technology companies increasing at least 2 percent. Energy shares rose 4.5 percent, the most since Aug. 27, for the second gain in the last seven days as crude oil rallied more than 2 percent.
Emblematic of today's turnaround, pipeline operator Williams Cos. lead all gainers with a 34 percent rally, its largest in 13 years. It was the S&P 500's biggest loser yesterday, with its biggest loss since 2002. Exxon Mobil posted its strongest gain since August, and Transocean Ltd. added 7.6 percent.
The Nasdaq Biotechnology Index rallied 4 percent after slipping 18 percent over the previous 10 sessions. Vertex Pharmaceuticals Inc. and Alexion Pharmaceuticals Inc. climbed more than 5.7 percent. Amgen Inc. surged 5.3 percent to help drive health-care shares' biggest gain in four months, a day after the steepest drop since Oct. 6.
Consumer discretionary stocks rose, after their biggest drop in four months, with Twenty-First Century Fox Inc. and CBS Corp. increasing more than 3.7 percent. Chipotle Mexican Grill Inc. extended its two-day rally to more than 12 percent after assuring investors that it can rebound from its food-safety crisis. Amazon.com Inc. climbed 1.9 percent, after losing 5.8 percent yesterday.
Best Buy Co. and GoPro Inc. tumbled. The electronics retailer fell as much as 12 percent and closed with the biggest retreat in a year after reporting its third drop in holiday sales in four years, hurt by sluggish demand for mobile phones and a broader slump in the industry.
GoPro plummeted 15 percent to its lowest since going public in June 2014, after news of disappointing holiday sales and job cuts renewed concerns the action-camera company is too focused on a single suite of products.
Before it's here, it's on the Bloomberg Terminal.
LEARN MORE